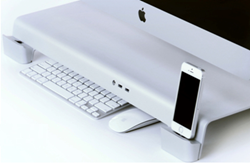 First iMac Stand With Integrated Dock and Charging System!
Arlington, TX (PRWEB) July 02, 2014
UNITI is a multi-functional desktop stand that simplifies and declutters a workspace. UNITI elevates a iMac or Thunderbolt display, charges mobile or tablet devices on its unique cradles, and provides clean, front-facing access to USB and audio ports. With iForte's patent-pending design, UNITI merges functionality with style into a clean and sleek desktop solution.
iForte decided to create UNITI after observing that the market is overrun by gadgets and accessories that only serve singular purposes. Things like monitor stands, phone chargers, and laptop docks are often necessary, but can lead to cluttered desktops and workspaces. UNITI integrates those commonly used items into a fully functional, aluminum stand that is produced with the highest quality. Best of all, the UNITI stand and cradle are made in the USA.
The project is live on Kickstarter (UNITI Stand) until August 16, 2014 and the team is seeking at least $45,000 in order to start the first production run of UNITI Stand. In return, early backers will be given discounted pricing for the finished product and receive updates on the progress of the development and production.
If you would like further information about UNITI Stand, please email fei(at)iforte(dot)com. Up-to-date project information is available on their Kickstarter page at http://kck.st/1j2CauW and on the iForte website at http://www.iforte.com.