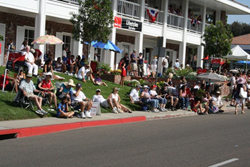 San Diego, CA (PRWEB) June 30, 2014
Rancho Bernardo is having their annual Spirit of the Fourth celebration and Real Living Lifestyles is one of their sponsors. Real Living's agent Nancy Canfield has always been a large part of the relationship with this event. Real Living Lifestyles graciously allows the committee to use their building as the unofficial "Hospitality Center" for the event. Their parking lot is the host of the VIP Luncheon, and guests can enjoy a spectacular view of the parade route and fireworks from the Real Living Lifestyles balcony.
This year Rancho Bernardo is honoring Grand Marshall Chris Brigham, US Army, RBHS Grad 2012 and Grand Marshal Chris Churchill, US Marine Corp, RBHS Grad 2012. This year's theme is honoring members of the Rancho Bernardo community who served our country as a member of the Armed Forces and then returned home. Eve Selis is scheduled to appear for the evening entertainment at 6pm on July 4th.
Local celebrities of Rancho Bernardo scheduled to be in attendance include the city mayor, city councilmen and city attorney. The family friendly event includes a pancake breakfast, a car show, a community fair, miniature golf, a beer garden, and so much more. The parade is always a fun filled way to spend time with friends and meet neighbors. The evening closes out with the Rancho Bernardo Idol Winner performing as fireworks light up the sky.
Visit SpiritOfTheFourth.org for more information today.
Real Living Real Estate is a network brand of HSF Affiliates LLC, which is majority owned by HomeServices of America, Inc.TM, a Berkshire Hathaway affiliate.