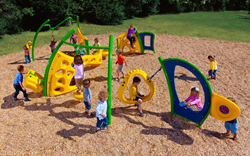 There is a real victory built into completing a challenging piece of equipment.
Saint Augustine, Florida (PRWEB) June 30, 2014
Your local playground may be on its way to a dramatic makeover. As parents, schools and community leaders become more concerned with health, there is a growing shift toward promoting active play. BYO Recreation is responding to this growing demand by introducing fitness oriented playground equipment into their product line. Unlike traditional playgrounds, fitness circuits do not include typical playground staples like large platforms or slides. Instead they focus on progressive challenges designed to keep children engaged.
"When designing a fitness circuit, our goal is to encourage kids to push themselves to the limit of their ability, to really go for it," Sandra Nance, lead playground designer at BYO explained. "There is a real victory built into completing a challenging piece of equipment, not just physically but mentally and emotionally, that kind of success is empowering." It is that feeling of success that they try to build into every fitness circuit by chaining components together, creating obstacle course style playgrounds and structures that naturally scale with children as their skill level increases. According to Nance, "After children finish one obstacle, there needs to be a next thing to do, a bigger challenge waiting and encouraging them to keep going."
Research by the University of Maryland shows that risk taking is vital to proper development, showing that children who engage in healthy risk taking behaviors develop better critical thinking skills, are more confident, socially competent and may be less likely to suffer serious injury. Because playgrounds offer children an opportunity to explore and experiment, they foster greater intellectual and emotional health alongside the physical benefits.
BYO's approach seems to be a success with children and parents alike; their most popular structures now focusing on a diverse array of activities rather than the more traditional components of yesterday's playground. With more unique activities children play longer and stay more engaged than they would when presented with different versions of the same activity. Creating a balanced approach is important to Nance who says that she encourages her designers to "incorporate activities that focus on different skills and different types of body movement into each structure."
Their dedication to active play has also lead to the inclusion of specially designed fitness playgrounds for children under 5. Their small size and limited upper body strength prevents them from enjoying popular activities like monkey bars and fireman's poles, making it more difficult to design fitness focused playgrounds that feature diverse activities. The key, they found, is in planning creative transitions from one activity to the next. Placing climbers side by side so that children can move between them without moving to the ground provides a distinct challenge and a greater perceived risk while keeping equipment safe.
Each business quarter, BYO Recreation adds funding to hundreds of playgrounds through their Create More Play Program. In order to receive the additional funding, participants must select from a menu of 8 to 10 pre-approved designs. Among these structures, BYO always includes a dedicated fitness circuit as well as playground structures that incorporate fitness components in their design. The goal is to offer the most active play structures at a reduced price so that all children have access to a high activity play space. Nance says the program is about more than just selling playgrounds. "There is a huge need in our communities for safe places to play and we're trying to help fulfill that need."