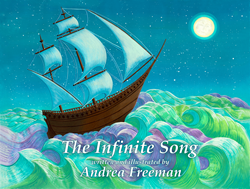 'The Infinite Song' is a beautiful experience that feels both very new and very old. It is destined to become a juvenile classic that also appeals to adults.
San Francisco, CA (PRWEB) July 08, 2014
A book that reawakens the magic of being.
The Infinite Song is a beautifully illustrated, allegorical creation tale, written in rhyming verse, that reminds readers to celebrate life as loving stewards of the Earth and to honor their connectedness to one another, their beautiful planet, and the mystery from which all life emerged.
"The Infinite Song explores a special awareness, even attraction, that seems to exist between human higher consciousness and the universe. The Infinite Song is a beautiful experience that feels both very new and very old. It is destined to become a juvenile classic that also appeals to adults."
—Midwest Book Review
"Gorgeous illustrations elevate this familiar attempt to reconcile science, religion and mysticism."
— Kirkus Review
Readers of this book have expressed great enthusiasm for it:
"The story-poem is delightful and the paintings in this book will take you on a voyage you won't want to miss! Beautiful!"
— Wes 'Scoop' Nisker - Bestselling Author, Radio Commentator, Performer, Teacher of Buddhist meditation
Available through:
Barnes & Noble, Baker & Taylor, Amazon.com
Contact the publisher at Halcyon Wind Press
PO Box 2242
San Anselmo, CA 94979
or visit the website: HalcyonWind.com