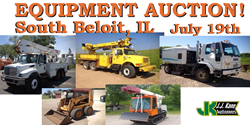 South Beloit, IL (PRWEB) July 04, 2014
JJ Kane today announced their public auction in South Beloit, IL, Saturday July 19th 2014 when over 400 pieces of construction equipment and vehicles will be sold. Auction items include bucket trucks, digger derricks, cranes, pressure diggers, back hoes, tractors, forestry equipment, farming equipment, loaders and more! Auction items are being sold by companies such as Nicor Gas, North Shore Gas/Peoples Gas, ComEd an Exelon Company, Asplundh Tree Expert Co. & other consignors.
The public auction location is at J.J. Kane's Auction Facility, 14354 Dearborn Avenue, South Beloit, IL 61080. For questions, contact your auction consultant Phil Stoegerer at 262.308.2554 or email phil(at)jjkane(dot)com
The auction is live with bidding starting at 8:30 a.m. Saturday July 19th, and buyers do not have to be present to participate as anyone can register to bid online. Bidders can inspect auction equipment on Fri July 18th, 8a.m.-4 p.m. and also at 7:00 a.m. on auction day, July 19th. The auction is live, on-site in South Beloit, IL and items are added to the auction daily. The auction is held in South Beloit several times a year so companies looking for a good deal are encouraged to sign up for weekly email updates to stay informed upcoming auctions. J.J. Kane is well-known for used bucket truck and utility equipment auctions. However, their auctions also feature many used light-duty trucks, cars, vans, SUV's and more. One of the benefits of this auction is that you do not have to be present to participate. Bidding can be done online, saving the cost of travel, and the company will help bidders and sellers through every step of the process.
JJ Kane auctions are absolute, meaning that everything sells to the highest bidder, regardless of price. There are no minimums or reserves at an absolute auction, and owners are not allowed to bid on equipment they have consigned to the auction. Selling price is determined by the bidders participating in the auction, you don't have to be a dealer to buy. Anyone can register and connect directly with buyers and sellers through this auction company, helping both parties to exchange equipment at a fair price.
"At JJ Kane, we connect buyers with equipment they need through our simple process where you can buy or sell in person, on site or online. Sellers benefit from a convenient and cost-effective way to sell equipment and fleet vehicles at market value. Buyers like the fact that they can kick the tires and inspect vehicles and equipment personally prior to the auction," says Joe Kane, founder of J.J. Kane Auctioneers.
About J.J. Kane
J.J. Kane Auctioneers was founded more than 20 years ago by Joe Kane with a goal of providing the best process to serve our customers, anchored on a foundation of family, strong values and relationships. These values carry on, today, making J.J. Kane one of the most successful auction companies serving buyers and sellers of used construction equipment in the U.S and across the globe.