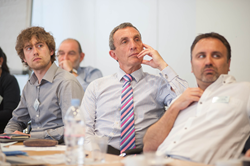 I realised that this would be a really helpful forum for me
London (PRWEB UK) 2 July 2014
In response to growing demand in the Midlands of England -- ella Forums, the leadership development programme specifically designed to inspire and develop the leaders of Social Enterprises and Charities -- is launching a new group in Birmingham. Leaders from Charities and Social enterprises in the region are invited to a half day taster session on July 16th at The Institute of Social Enterprises, Avoca Court, 23 Moseley Road, Digbeth, Birmingham B12 0HJ from 9.30 am – 2.00 pm.
The taster event will give an idea of what an ella Forums session offers and how it can help leaders grow their organisations. They will hear Peter Roper speak about What Family Businesses and Social Enterprises Have In Common. In addition they will learn how Ella Forums work, participate in a peer to peer problem resolution clinic and enjoy a complementary lunch. Any leader who would like to come along can contact Phil Thompson at phil(at)ella-forums(dot)org for more information.
"I was invited to come along to one of the meetings to test and taste the organisation. Immediately, I realised that this would be a really helpful forum for me to come to," says Dara De Burca, Director of Services for Clic Seargeant and a member of a London ella Forums Group.
Founder and CEO, Brian Chernett, adds: "You will come away from an ella Forum energised with valuable insights, but more importantly, with an idea of what ella Forums can offer you in terms of support and connections. We would encourage Third Sector leaders in the Birmingham area to take advantage of our taster session. They'll be surprised how valuable it will be for their own development and that of their organisation."
ella Forums were specifically designed to inspire and develop the leaders of Social Enterprises and Charities to grow their organisation. Chief Executives and other Senior Managers come together for monthly sessions where they hear the latest thinking from guest speakers, share best practice and receive coaching from experts -- all done via the tried and tested personal development methods that have been used by CEOs and Senior Managers in the commercial sector for years.
For further information please contact: Steve Barton, Marketing Director for ella Forums. +44 (0)790 191 7992 steve(at)ella-forums(dot)org
About ella Forums - You can find out more about ella Forums at http://www.ella-forums.org
ella Forums are a leadership development programme that inspire and develop leaders of Social Enterprises and Charities to grow their organisations. ella Forums launched in 2013 and have Groups across the UK. Ella Forums CIC. are a Community Interest Company based in London.
To book a place at ella Forums Birmingham Taster Session please contact phil(at)ella-forums(dot)org.
Date: Wednesday 16th July 2014
Location: The Institute of Social Enterprises, Avoca Court, 23 Moseley Road, Digbeth, Birmingham B12 0HJ
Time: 9:30am – 2pm