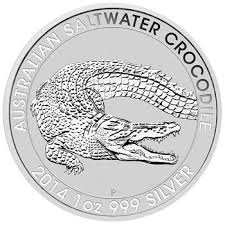 Silver Saltwater Croc amongst finest silver coin ever
San Francisco, CA (PRWEB) June 30, 2014
Know as "salties" to Agora Commodities' seasoned bullion traders, the Silver Saltwater Crocodile has quickly become a favorite in the Bitcoin and precious metals realm.
Coming from the world renowned Perth Mint in Australia, the Silver Saltwater Croc is 99.99% pure silver. The one troy ounce silver coin has a limited mintage of 1,000,000 coins meaning that it will retain a semi-numismatic value outside of its silver market value.
The salties are amongst the finest silver coins ever minted. They are selling out fast and once they are gone customers will never be able to buy them for market value again.