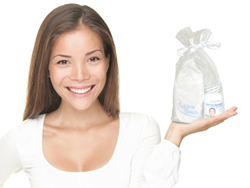 The new skin kit is 30% off this week at the Sublime Beauty® webstore; improve skin from the inside and outside!
St. Petersburg, FL (PRWEB) July 02, 2014
Fresh, healthy skin is the goal of many, and a new Sublime Beauty® kit will help attain it.
"We put together two great tools for fabulous skin: a popular Skin Brush and natural Phytoceramides," says Kathy Heshelow, founder of Sublime Beauty®.
Daily Skin Brushing: only 10 minutes each morning will bring great improvement to skin as well as other benefits. It boosts blood circulation, aids the lymphatic system, reduces cellulite, boosts mood and improves skin tone.
One Phytoceramide capsule daily will replenish waning ceramides naturally within a month. Ceramides diminish each year, and they are responsible for moisture-retention and barrier protection of skin. Replenish ceramides and skin becomes more radiant, plump and youthful.
Heshelow just published a book about Phytoceramides to help education and demystify.
"Our Skin Brush is popular and was featured in the June issue of Glamour and its blog," says Heshelow. "A feature in USA Today and in Urbanette magazine are but two great stories to fill you in further."
The Skin Brushing website is a great source of information, and includes the "how-to" steps and background.
The new Skin Kit is on 30% off this week for July 4th at the Sublime Beauty® Webstore with code KIT30 at checkout.
ABOUT: Sublime Beauty® is a quality skincare company that focuses on products to "Age Younger". Products help to boost collagen, hydrate, relax wrinkles and improve skin. A niche includes healthy Skin Brushes. The company webstore offers free standard shipping and a VIP Club. Products also available on Amazon.