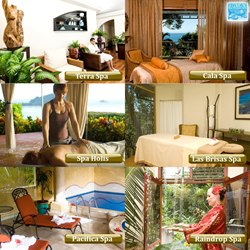 (PRWEB) June 30, 2014
Vacationing, by definition, is an indulgence. After working hard for the better part of a year, it's time to set the gathering basket down and enjoy the fruit of our efforts. The challenge is to find a place where there is something for everyone to enjoy—whether traveling with a spouse, family, colleagues or friends.
The good news is that Manuel Antonio, Costa Rica, is that place. While there are countless adventure activities and tours such as zip-lining, whale watching, surfing, parasailing, etc., there are also plenty of soulful, relaxing activities—to indulge the mind and body. Manuel Antonio has recently become known for its luxury amenities, and is home to six luxury spas, each with its own unique character, ambience, and specialties.
As a vacation rental agency in Manuel Antonio there are certain 'perks' to the job. One is that nearly any tour, activity or spa treatment can be done for free. Rarely, of course, does one have the time to take advantage of all of the freebies—however, in an earnest (and indulgent) effort to provide a guide to spa-goers to the area, this particular rental agency owner bucked up and visited all 6 spas in 6 weeks.
Somebody had to do it.
The great thing is—there is no best or worst spa in Manuel Antonio. Each has its own flavor, architecture and menu of treatments. Each welcomes visitors with fountains, candles, flowers and fresh fruit juice. Each uses natural oils and products from the rainforest, and puts guests at ease with fragrant aromatherapy. Some will even make house calls to vacation rental homes and condos.
The differences lie in their ambience and specialties. Here is a brief synopsis of each spa (in alphabetical order):
Cala Spa (Si Como No Resort)
Phone: 2777-0777
Price Range: $65 to $150
Specialty: The Cala Flor Massage ($80 / 90 min) – The Cala Spa signature treatment, based on Swedish relaxing massage techniques.
House Calls: No
Description: The Cala Spa has a traditional feel, with a welcoming ambience and finishes fit for royalty—and orange and gold color palette with velveteen touches. One of the few spas with ocean views, Cala provides both an ideal atmosphere and suberb service to set their clients at ease.
Holis Spa – Wellness Center (Plaza Vista)
Phone: 2777-0939
Price Range: $35 - $250
Specialty: Holistic treatments, such as the DEI Holistic Therapy ($130 / 90 min), using various modern techniques to help balance the mind, body and spirit.
House Calls: Yes, no extra charge.
Description: The word 'spa' is too small for Holis, which incorporates numerous practices for a holistic approach towards overall wellness. While typical spa treatments such as a Swedish massage are part of the menu, Holis also offers yoga, pilates and modern-day techniques like DEI and craniosacral therapy in order to seek out the source of the problem and provide balance to the mind, body and spirit.
Las Brisas Spa (Arenas del Mar)
Phone: 2777-2777
Price Range: $45 to $290
Specialty: Las Brisas Massage ($100 / 80 min), a relaxing massage incorporating techniques such as reflexology and stretching.
House Calls: Yes, no extra charge (2 people minimum).
Description: Just the setting of Las Brisas Spa leaves little to be desired—perched upon a bluff overlooking Espadilla Beach and the Pacific ocean. Upon entering, one is greeted by warm smiles and exotic smells. Each massage room has floor to ceiling windows, looking out into the rainforest, and is appointed with modern and organic touches. The entire experience—from arrival via golf cart to post-therapy service, leaves one feeling pampered.
Pacifica Spa (Parador Resort)
Phone: 2777-1414
Price Range: $55 to $440 ($20 - $35 for 'mini-treatments')
Specialty: Pacifica Massage ($90 / 50 min), a relaxing massage for the whole body, utilizing a combination of rhythmic movements to increase circulation and reduce tension.
House Calls: No.
Description: The Pacifica Spa is what everyone imagines when 'luxury tropical spa' is mentioned, and prides themselves on being a true 'pamper spa'. With a beautiful setting overlooking the resort grounds, the Pacifica is the only spa in Manuel Antonio which offers complementary use of their Jacuzzi, pool, steam room and Swiss shower with every treatment. After each professional therapy, there is also a plate of fresh fruit waiting!
Raindrop Spa (Manuel Antonio Estates)
Phone: 2777-2880
Price Range: $30 - $300
Specialty: Spa packages, Vichy shower, Ionic Foot Detox and the Rain Massage ($90 / 45 min)
House Calls: No.
Description: The Raindrop Spa is tucked away in a tranquil corner of the Manuel Antonio, and maintains an open-air atmosphere, incorporating the natural elements of the rainforest into the spa's aesthetic beauty. The architecture is rustic Asian, with Balinese and Thai decor. The Raindrop Spa also offers other wellness services, such as yoga and weight loss. Visitors can enjoy a massage while listening to a sedative, afternoon shower—and even the occasional troop of passing monkeys.
Terra Spa (Gaia Hotel)
Phone: 2777-9797
Price Range: $90 - $150 ($20 - $50 for 'mini-treatments')
Specialty: Thai Massage ($120 / 75 min) & Vichy Shower therapy ($50 / 30 min)
House Calls: Yes, no extra charge.
Description: While most of us can't afford to stay at the Gaia, their spa—the Terra Spa—is surprisingly affordable. With a modern, top-quality establishment, and highly-qualified therapists, the service offered at the Terra Spa is commensurate with the hotel, and clients always leave well sated. A treatment at the Terra followed by sunset drinks at their restaurant makes a perfect afternoon.
For more information about the Spas of Manuel Antonio, please visit: http://manuelantoniorentalproperties.com/spa-and-services.