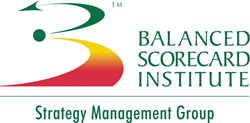 Cary, NC (PRWEB) July 01, 2014
The Balanced Scorecard Institute (BSI) announced that it has partnered with organizational alignment expert SchellingPoint, LLC to deepen its consultancy offerings as well as provide a new training curriculum.
BSI has enhanced its strategy formulation and execution offerings with the introduction of SchellingPoint's Alignment Optimization (AO) solutions. Based on a proven methodology now taught at leading US and international business schools, AO enables groups to rapidly measure, then maximize their alignment resulting in viable and endorsed plans that fulfill their potential over time.
AO has proven to be effective for leaders that need a high degree of alignment when creating or implementing any 'collaborative action', such as strategies, projects, policies, and business relationships including alliances, coalitions, customers, mergers, and partnerships. By integrating AO with the Nine-Steps-To-SuccessTM, BSI is able to help its clients perform more meaningful strategic assessments, design stronger strategies, and maintain strong organizational alignment as it executes and adapts to strategic changes.
"We are impressed how the Balanced Scorecard Institute's efficient methodology has made the power of Balanced Scorecards available to any organization," said SchellingPoint owner and Alignment Optimization expert Michael Taylor. "Our organizations share a common interest in enabling groups to enjoy coordinated action in today's world where groups must quickly come together and deliver on their stated goals."
BSI will also be offering a new training course based on SchellingPoint's approach, called Alignment Optimization Executive Education. This two-day class focuses on how to replace alignment as a "soft" notion with tangible concepts and methods. Course participants learn how to create more robust plans by efficiently surfacing alignment, and resolving misalignment. BSI and SchellingPoint are tentatively scheduled to deliver this class September 15 - 16, 2014 in the Philadelphia, PA area.
"This new course, and associated consulting support, re-enforce and broaden BSI's commitment to integrated strategic planning and management, and the important components necessary to build, implement and sustain management systems well into the future," said Howard Rohm, Co-Founder and CEO of the Balanced Scorecard Institute.
About SchellingPoint
SchellingPoint, based in West Chester, PA has created Alignment Optimization (AO) solutions which empower leaders and managers to efficiently measure, maximize, and maintain the strongest alignment throughout their collaborations. By replacing the vital but "soft" notion of alignment with data-driven, technology-enabled solutions, SchellingPoint enables multi-party groups to design and execute sustained growth and change initiatives through Alignment Optimization. Alignment Optimization is used by commercial enterprises from the Fortune 100 to early stage ventures, governments, non-profits, academia, associations and alliance and coalitions.
About the Balanced Scorecard Institute:
The Balanced Scorecard Institute, a Strategy Management Group Company, provides strategic planning, balanced scorecard and performance measurement and management training, certification, and consulting services to government, non-profit, and commercial organizations. Services include public and on-site courses, facilitation and consulting services, and information and tools used by executives, managers and analysts to transform their organizations into "performance excellence" organizations.
BSI's website-- http://www.balancedscorecard.org --is a leading resource for information, ideas and best practices on strategic planning and management, performance measurement, and balanced scorecard systems. BSI's Nine Steps to Success™ balanced scorecard framework integrates strategic planning, budgeting, operational planning, performance measurement and strategy execution into a disciplined framework for helping organizations achieve higher levels of performance.