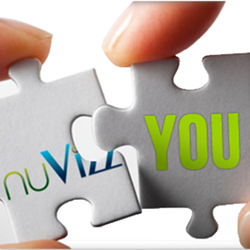 'Our holistic approach to program management means that each component of an implementation is seamlessly connected with the overall project. We ensure that client business goals and objectives are achieved.' - Sudhakar Maruvada, Managing Partner
Atlanta, GA (PRWEB) June 30, 2014
nuVizz, a certified consulting partner of Manhattan Associates, receives unprecedented booth traffic while exhibiting at Momentum 2014.
With the growing demands of today's omni-channel marketplace, particularly around Enterprise Order Management (formerly Distributed Order Management), Warehouse Management and Labor Management, nuVizz's consulting practice is uniquely positioned to partner with organizations to help realize business goals. nuVizz's value from a relationship perspective was not only recognized by Manhattan customers, but was also sought out by other Manhattan partners as well.
Company representatives interacted with hundreds of customers who were heavily focused on WM and LM and EOM. Customers recognize that there are long-term benefits to full utilization of the Manhattan platform, and are seeking long-term relationships with companies like nuVizz to bring their goals to fruition. With an established and respected Supply Chain Consulting practice surrounding Manhattan solutions, nuVizz was also able to share some do's and don'ts based on its Platform implementation experience.
About nuVizz, Inc.:
nuVizz Inc., a privately held company based in Atlanta, delivers supply chain consulting services across multiple industries and software platforms. Our seasoned team of expert practitioners have experience managing highly complex, multi-site implementations around the globe, from planning to execution. We provide our clients with the critical resources needed throughout a project lifecycle and ensure that they are well positioned to achieve their business goals. For more information, visit us at http://scc.nuvizz.com/.