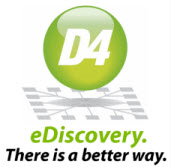 our e-discovery team essentially spent the last 12 to 14 months vetting the top e-discovery service providers in the industry to determine who would be best to serve as an extension of our internal Litigation Technology Support team
ROCHESTER, NY and PITTSBURGH, PA (PRWEB) July 01, 2014
Buchanan Ingersoll & Rooney PC, a national law firm with more than 500 lawyers, announced today a partnership with D4, a leading provider of e-discovery solutions for managed services through its eNtrust Managed Services Platform. The partnership will provide Buchanan's clients with a cost-effective and continually upgraded tool for e-discovery services. Under the terms of the agreement, D4 will support Buchanan with an end-to-end managed services platform that includes litigation support, consulting, collections and forensics, processing, predictive coding, analytics, hosting and review. This comprehensive offering will allow the firm to generate predictive cost estimates for matters of all types and sizes.
"The costs of e-discovery have long been a concern for clients and a challenge for firms to drive down," said Nolan Kurtz, Buchanan's chief operating officer. "This unique partnership not only addresses those concerns, but also provides clients with access to the most advanced software options. For some companies, the costs of advanced options are disproportional to the underlying matter, but under our contract, all of our clients have access to this advanced technology."
Because businesses create and store almost every important bit of information electronically, the ability to manage, store and access electronically stored information (ESI) is critical and the risks of mismanaging ESI are enormous. Any time a company is involved in litigation, whether as a plaintiff or defendant, e-discovery is a major component. Management of ESI is not only a budgetary concern, if managed poorly, it can have a negative effect on the outcome of a case.
Craig Mills, co-chair of Buchanan's Litigation Section, explained, "We were looking for an e-discovery solution that would provide our clients with unrestrained access to the most advanced technology for managing ESI. In order do that, our e-discovery team essentially spent the last 12 to 14 months vetting the top e-discovery service providers in the industry to determine who would be best to serve as an extension of our internal Litigation Technology Support team, provide access to a fully equipped e-discovery tool belt and be vested in continuously upgrading and diversifying the technology. Couple that with an innovative pricing platform and our clients receive immediate value. Not many firms offer such a solution for clients."
"We are very impressed with the time investment and approach Buchanan took in choosing a partner," said Philip Mooney, chief sales officer for D4. "They really did their homework and dedicated the time necessary to truly develop what a managed services offering meant to them and their clients."
D4's eNtrust, announced in 2011, was one of the first e-discovery managed service solutions available to the market. With eNtrust, D4 is able to deliver the in-house e-discovery capability needed without the hassle and expense of having to build, maintain and support an internal system.
"We are honored to be selected by Buchanan Ingersoll & Rooney to partner with them on this important component of their firm," said D4 CEO, John Holland. "D4 will help Buchanan provide significant added value to their clients by having predictable costs for their discovery operations. eNtrust will also allow them to spend less time managing litigation support tools and infrastructure, and more time doing what they do best—practicing law. We look forward to working with the Litigation Technology Support team to help them maximize their successful e-discovery offerings."
About Buchanan Ingersoll & Rooney
Buchanan Ingersoll & Rooney PC (http://www.bipc.com) has more than 530 attorneys and government relations professionals practicing throughout the United States, with 19 offices in California, Colorado, Delaware, Florida, New Jersey, New York, North Carolina, Pennsylvania, Virginia and Washington, D.C.
About D4, LLC
D4 is a national provider of electronic discovery, computer forensics, litigation support and deposition services to law firms and corporations. D4 has been instrumental in helping customers realize up to a 70 percent cost reduction over previous e-discovery solutions. Founded in 1997 in Upstate New York, D4 has grown to a national presence and is a kCura Orange-level Best in Service award winner and Viewpoint Hosting Partner. With over 160 employees, D4 has offices in Buffalo, Chicago, Detroit, Grand Rapids, Lincoln, New York City, Omaha, Orlando, Phoenix, Rochester, San Francisco, San Diego and Tampa. D4's state-of-the-art Tier 3 data center and operations in Rochester are complemented by electronic discovery, litigation support and paper document services throughout our other offices across the country. D4 has been recognized by Inc. Magazine as one of the fastest-growing private companies in the US and is an INC 500/5000 honoree. Visit http://www.d4discovery.com for more information.
Media Contacts:
Tracie Gliozzi
Director of Communications, Buchanan Ingersoll & Rooney
tracie.gliozzi(at)bipc(dot)com
412-562-1969
Martha MacPherson
Vice President of Marketing, D4
mmacpherson(at)d4discovery(dot)com
585-512-3758