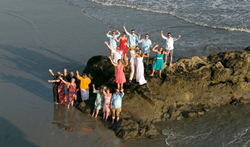 Its not just about being a great photographer-- it's about being a great photographer with the right equipment.
(PRWEB) June 30, 2014
These days, staying ahead of the curve when it comes to photography is not as easy as it once used to be. With the advance of digital technology, quality cameras have become inexpensive enough that every bride, groom and maid-in-waiting fancies themselves a photographer. Professional photographers who make a living from their work need to constantly look for angles and competitive edges that set them aside from the multitudes of amateurs out there.
John Williamson, a well-known wedding photographer and resident of Manuel Antonio, Costa Rica, has been at it for over 15 years. Knowing that he needed to up the ante and stay ahead of the game, John recently purchased a quadcopter--a remote-controled helicopter device with four propellers which can lift a Go Pro camera and capture amazing aerial images.
"For me, it's about being able to offer something that the others don't have," said John. "It's not just about being a great photographer--it's about being a great photographer with the right equipment."
The quadcopter has allowed John to offer a service for his clients which is unique to the area. For weddings, it offers a bird's-eye perspective of the ceremony, or reception, with a macroscopic feel. The quad allows him to capture the entire ceremony in context--with the surrounding beach and rainforest.
For architectural photography, John can now offer a specialized service to prospective home sellers as well as vacation rental owners--allowing them to also stay ahead of the curve with aerial photography. Real estate firms and vacation rental agencies are seeking out his services to help publicize their homes for sale. Aerial photos are uncommon, draw attention, and add a professional edge to a property or event that could not otherwise be achieved.
Most people underestimate the value of professional photography. Professional photos can make the difference between a property that sells in one month and one that sells in one year. Good photos can affect the occupancy rates of rental homes and condos. They can also change an average wedding on the beach in Costa Rica to an event that is immortalized in time and memory.
For more information, please visit: http://www.weddingphotoscostarica.com/.