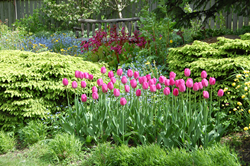 Jewell Gardens in Skagway, Alaska: A Magical Sanctuary for Garden Enthusiasts.
Skagway, Alaska (PRWEB) July 15, 2014
With its exciting new tourist opportunities for independent travelers and cruise-ship passengers, Jewell Gardens, home to the first Certified Organic Show Garden in the United States, is now featuring a dazzling summer display of flowers—tulips, lilacs, giant delphiniums and more--that will delight and make for a memorable first or returning visit to Jewell Gardens in Skagway, Alaska.
For visitors to the Alaskan Panhandle, Jewell Gardens offers a sanctuary for garden enthusiasts. "Jewell Gardens is indeed something many visitors feel is worth making a special trip for," said Charlotte Jewell, who co-owns Jewell Gardens with her husband, Jim, and who happily admits that, "gardening has always been in my blood."
Right now, in fact, Alaskan visitors who love strolling through beautiful gardens can catch a glimpse of this special garden in full bloom with an amazing assortment of beautiful flowers. "Jewell Gardens certainly has a special appeal to many Skagway visitors," said Charlotte. "I've had seasoned travelers express their unbridled surprise at seeing such an amazing garden here in Alaska. Our guests often say it rivals other gardens they've seen on trips around the world."
Jewell Gardens offers a self-guided garden tour for independent travelers and many tours organized by various cruise-ship lines. However you plan it, visiting Jewell Gardens is a rare opportunity to combine a relaxing garden-viewing experience with scrumptious food. Poppies, the garden restaurant, serves delicious organic vegetables picked straight from the garden," said Charlotte. "And for those who visit us toward the end of summer, there's a unique surprise: very large vegetables that can even be sampled later."
Charlotte pointed out that it's not often one sees enormous cabbages or soft-ball-sized radishes, which are astonishing to look at and equally satisfying to the palate. This being the result of Alaska's long summer daylight hours where sunlight shines bright throughout the day and night. "Anyone interested in finding out what a 30-pound cabbage looks like should visit in late August or early September."
Charlotte admits it was no small feat to be the first Certified Organic Show Garden in the United States and feels honored to whatever degree she has paved the way for others. Those applying for a USDA Certified organic garden must submit a detailed organic plan, among other important criteria. "Our goal at Jewell Gardens is to share a beautiful garden with our guests, one maintained without chemical pesticides or herbicides, and one that supports a healthy environment," Charlotte said, elaborating on why an organic garden is important to her.
Taking a garden tour is just one of the amenities offered at Jewell Gardens. In addition, railroad buffs, both young and old, will love the garden railway, a G-Scale model of the White Pass & Yukon Route that winds the garden. This miniature railway is a delightful experience for many Skagway visitors who come to Jewell Gardens, formerly the site of the historic Clark farm and gateway to the famous Klondike Gold Rush.
Additionally, there are other things to entertain both independent travelers and cruise-ship passengers. All Jewell Gardens' visitors, for instance, can take a glassworks tour or participate in the only public glassblowing class in Alaska. "And concluding with a tour at Poppies certainly reinforces how incredible garden fresh, organically grown produce can taste," Charlotte added.
Both independent tourists and cruise-ship passengers to Skagway can learn more about Jewell Gardens' tourist attractions by visiting Jewell Gardens' new website; it offers a rich history about Skagway, and highlights the new site-seeing attractions now available there. For independent travelers, Jewell Garden Tours can be made appointment in downtown Skagway or by booking a tour online.
For further information:
Visit us at http://www.jewellgardens.com
Phone: 907-983-2111
Info(at)jewellgardens(dot)com