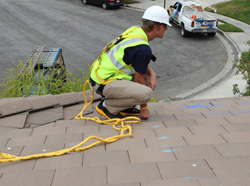 These vets are proving to be our installation department's 'silver bullet'
Murrieta, CA (PRWEB) June 30, 2014
Prior to training in the field, the veterans completed Ambassador Energy College's five-day Solar Photovoltaic Design and Installation course and passed the North American Board of Certified Energy Practitioners' NABCEP Entry Level exam. The course was provided to them and 14 other veterans by Ambassador Energy College and non-profit organization, The Veteran Asset [TVA], whose mission is to train and place U.S. military veterans at no cost to the veterans. Ambassador Energy College and TVA will continue to offer the course one week per month, at minimum, to qualified veterans.
"We are already seeing the quality that they bring to AE," said Steve Fulgham, CEO of Ambassador Energy. "These vets are proving to be our installation department's 'silver bullet', as they come in with very high skill sets. They also work hard, set great examples for other employees, and, last but not least, customers love them! We are very proud to have them in our AE family and honored to be putting our military veterans to work in our exciting industry."
In addition to receiving highly skilled employees, Ambassador Energy is also able to benefit from the Riverside County Workforce Investment Act's On-the-Job Training, for which many U.S. military veterans qualify. After 90 days of the veterans' employment, the employer is reimbursed for half of the veterans' hourly wages.
"We plan to hire more vets and keep these three guys for as long as they will have us," continued Fulgham. "As TVA puts it – the veterans are an asset to employers. What's not to like about doing the right thing for our country, and being on the receiving end of an asset?"
About Ambassador Energy
AE is comprised of Ambassador Energy College Solar Training, the Ambassador Energy Agency Program and the installation arms, Ambassador Energy and Ambassador Solar. On staff are NABCEP Certified PV Installers, NABCEP Certified PV Technical Sales professionals [Fulgham/Kelso] and multiple NABCEP EL graduates. AE holds California licenses General Contractor B, C10 Electrician and C46 Renewable Energy. Ambassador Energy is IREC/ISPQ accredited. AE Agencies are nationwide. Ambassador Energy installs residential and commercial PV systems throughout California and the US.
About The Veteran Asset
The Veteran Asset [TVA] is a non-profit organization, whose mission is helping U.S. military veterans (Active/Guard & Reserve), obtain careers in the renewable energy sector. TVA recruits, facilitates top-notch Solar PV training and ultimately provides placement services - at no cost to the veteran.