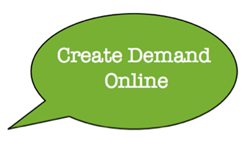 We use video to create a free 5-minute video audit showing one of our experts navigating any businesses website and pointing to specific recommendations that could be made to better obtain more leads and improve the site's online presence."
(PRWEB) July 01, 2014
A key factor in the success of many businesses, often includes how many "quality" leads can be generated through their website. OurHelix, a digital agency that creates lead generating solutions for businesses, shares the top 5 ways for a brand to generate more leads online.
A lead is a prospect that has shown potential interest in a business or organization. An online lead hook is the actual offer that is being made, along with the call-to-action to get the prospect to engage and submit their contact information, in exchange for a deliverable of some type.
Below are some of the top consistently performing tactics for obtaining more qualified leads online.
1. Content . Good, relevant content is still #1. However, from OurHelix's experience the following formats seem to generate the most interest.

Downloadable forms and "how to" guides in the form of ebooks
Research stats
All-in-one kits
Webinars and slide presentations
2. Live Chat. Live chat is easy to set-up and manage. Today's consumers are groomed for instant gratification and more and more they are expecting live engagement from brands.
3. Video Marketing. Many are doing it, but many still are not doing it well. Consider offering information to help a target audience solve a problem and deliver it in a video message.
OurHelix is using video to help businesses solve the problem of how to get more leads to their website; by offering a complimentary video audit of any site in exchange for a visitors name and email information.
"We use video to create a free 5-minute audit showing one of our experts navigating a website and pointing to specific recommendations that the business could make to better obtain more leads and improve their online presence. The offer is free to any business, with an easy signup and the video is delivered within 48 hours", explains Amy Nedoss, OurHelix co-founder.
4. Dual Registration. Explore opportunities with other businesses or partners that allows for registration to be shared. It can be as simple as making an offer and adding a check box to a form that authorizes the registration information go to both parties.
5. Smart PPC. Pay-per-click (PPC) or Ad Word buying is still a lead generation tactic that many don't use effectively. Consumers are searching by phrases, more so than single words. Buying the most popular single words in a competitive market is only going to blow through a budget. OurHelix believes businesses should spend time on identifying what makes a brand niche, and how people search for what is being offered. Testing phrases to see what works is a key component to any ad words buy.
For a consumer to leave their information, OurHelix recommends to keep the call-to-action (CTA) language simple and use short forms for gathering the contact information. Instead of the word "submit", try to use the word "Go" or "Get It Now" on CTA buttons.
For more tips on lead generating ideas, visit OurHelix's list of Top 20 Lead Generating Hooks.
OurHelix is a Chicago agency that custom creates digital solutions combining web, social and CRM. By listening to the client's goals and getting to know their business, OurHelix crafts a solution tailored to help businesses get found, obtain more leads and manage their clients all from a single command center. For more information about OurHelix contact:
Amy Nedoss
312.330.1798
Amy(dot)Nedoss(at)ourhelix(dot)com