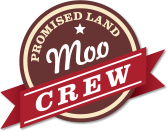 Dallas, TX (PRWEB) June 30, 2014
The "Moo Crew," a free loyalty program, is designed to reward fans of the premium milk brand via digital downloads, printables, limited edition T-shirts, exclusive content and contests, as well as Random Acts of Moo™ such as unexpected rewards or freebies.
"Just like our pampered Jersey cows, our fans are special," said Allen Spence of Promised Land Dairy. "We've created the Moo Crew program to satisfy their thirst for knowledge with an insider scoop. We want to share news about new flavors and other developments to reward our loyal fans."
Promised Land Dairy, a subsidiary of Borden Dairy Brands, is a premium fluid milk brand made exclusively from Jersey cows, which produce richer milk with more protein. In addition to white milks, Promised Land Dairy produces a variety of uniquely flavored milks such as Cookies 'N Cream, Midnight Chocolate, and Marvelous Mocha, among others. Promised Land milk is sold in 32 states across the U.S. through major grocery retailers.
With 150,000 likes on Facebook and counting, Promised Land is also working on mommy blogger and influencer programs.
"It's been exciting to collaborate with Promised Land on this program," says Alexandra Watson, Digital Director at Launch Agency. "We can hardly wait to see what happens with the brand as we mobilize our best influencers."
Launch Agency is a full-service advertising agency based in Dallas. Founded in 2003 after spinning off from Temerlin McClain, they are nationally recognized for award-winning creative work, and for positioning and marketing both fast-growth and mature companies. Current clients include Park Place Dealerships, Children's Medical Center, Floor & Decor, and Cooper Consulting Partners (a division of Cooper Aerobics). Visit http://www.launchagency.com or http://www.facebook.com/launchagency to learn more.