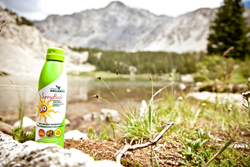 "Goddess Garden got our start at the Telluride Bluegrass Festival over 10 years ago... we are thrilled to get back to our roots and participate in festival such as Wanderlust." ~Nova Covington, Goddess Garden CEO & Founder
(PRWEB) July 01, 2014
Leading natural sunscreen brand, Goddess Garden Organics will sponsor the popular yoga-inspired Wanderlust Festivals at Aspen-Snowmass, Colorado and Squaw Valley, California this coming summer. The first of the two events at Aspen-Snowmass will begin this Thursday, July 3rd in Snowmass Village, Colorado where Goddess Garden will hand out sunscreen samples to the over 10,000 people expected to attend the event.
Goddess Garden is the only sunscreen company partnered with the Colorado and California festivals, and they will join a full lineup of natural living inspired partners, including Kashi, Prana, and Honest Tea. Goddess Garden's booth will offer an array of natural sunscreens for attendees to sample and purchase, and they will also offer attendees opportunities to win their natural sunscreens through engagement on social media.
"As a company dedicated to enjoying the outdoors in an environmentally responsible way, we believe the Wanderlust Festival is the perfect event for us to sponsor," remarked Goddess Garden founder and CEO Nova Covington. "There is a significant amount of education that still needs to be done regarding the benefits of mineral sunscreens such as ours. This will be a great event for us to continue to get the word out."
Wanderlust is a traveling festival that brings together the world's leading yoga teachers and musical performers together in naturally stunning locations. Attendees spend their time at the festival practicing yoga and meditation, relaxing at a spa, and engaging in various outdoor activities. Other activities include talks, music, food tastings, and dancing, all with an emphasis on spending time outside in nature.
"As a Colorado-based company, we are particularly excited to kick off this sponsorship with the Rocky Mountains in the background," furthered Covington. "Goddess Garden got our start at the Telluride Bluegrass Festival over 10 years ago, so we are thrilled to get back to our roots and participate in festival such as Wanderlust."
The Aspen-Snowmass event will take place from July 3 through the 6 with an expected 10,000 people in attendance. Goddess Garden will then travel to Squaw Valley, California near Lake Tahoe where almost 17,000 people are expected to attend.
About Goddess Garden:
Founded in 2004 by "mompreneur" Nova Covington, Goddess Garden is a woman-owned natural sun and skin care company based in Boulder, Colorado. Goddess Garden sunscreens are made with pure minerals, zinc oxide and titanium dioxide, offering natural protection from the sun. Available in tubes, pumps, and continuous sprays, Goddess Garden's sun care products are free of chemical sunscreen. Goddess Garden sunscreens are water resistant, non-greasy, and absorb quickly. Products and additional company information are also available online at http://www.GoddessGarden.com.