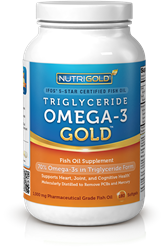 NutriGold works with several ISO-accredited third-party labs to verify the purity and potency of every lot of its Omega-3 Gold fish oil products.
Orem, Utah (PRWEB) June 30, 2014
NutriGold is pleased to announce that its IFOS 5-star certified Triglyceride Omega-3 Gold fish oil supplement manufactured using pharmaceutical grade fish oil concentrate is now approved by ConsumerLab.com.
NutriGold works with a number of ISO-accredited third-party labs to verify the purity and potency of every lot of its Triglyceride Omega-3 Gold product and considers the approval of the well-respected consumer watchdog, ConsumerLab, another feather in its pedigreed cap.
Results of testing by independent, third-party labs provide confirmation that Triglyceride Omega-3 Gold routinely meets or exceeds the standards set forth by the Global Organization for EPA and DHA (GOED) and the Council for Responsible Nutrition (CRN) for purity, potency, and freshness. With 600 mg of EPA and DHA in each 1,000 mg softgel, consumers get two times more Omega-3 fatty acids than most other brands of fish oil.
Triglyceride Omega-3 Gold, a pharmaceutical grade fish oil supplement, is 100% a product of the USA, sourced from wild-caught Pacific pollock and cod found in deep, cold, pure Alaskan waters. Although oily fish such as sardines and mackerel are used in 95% of fish oil supplements produced by other companies, NutriGold carefully considered several factors before deciding to use a whitefish source. It's worth noting that the Omega-3 fatty acids in fish oils are virtually identical no matter the source of the oil, and the benefits of NutriGold's decision to go with Alaska Pollock are numerous.
-The Alaska Pollock is processed within minutes of being caught on fishing vessels that are FDA inspected.
-Alaska pollock is considered safe by the US FDA and the American Heart Association (AHA) for pregnant women and children because of its exceptional purity profile.
-The fish/fisheries from which the oil used in NutriGold's product is sourced is certified sustainable by the Marine Stewardship Council.
-NutriGold's Triglyceride Omega-3 Gold is fresh tasting, has very little fishy smell, and produces little or no fishy burps/reflux.
-As an IFOS 5-Star Certified product, Triglyceride Omega-3 Gold meets stringent international standards for purity, potency, freshness, and stability.
Triglyceride Omega-3 Gold is molecularly distilled, purified, and manufactured to stringent cGMP standards in the U.S. It is verified non-GMO and free of allergens, heavy metals (lead, mercury), dioxins, PCB, and toxins by independent third-party labs. In light of growing concern over possibility of radiation contamination in Pacific waters, the company also voluntarily tests the product for radioactive contamination.
FREE SAMPLES
For free product samples of NutriGold supplements, please visit http://www.nutrigold.com/Free-Samples, click "Like" on Facebook, or "Follow" the company on Google Plus.
ABOUT NUTRIGOLD
NutriGold is a science-based nutraceutical company committed to identifying, developing, and offering cutting-edge nutraceutical products. With a portfolio of best-in-class products at reasonable prices backed by unmatched service, NutriGold is not just raising the bar on quality, but is helping define the standards for the rest of the industry to follow and this is reflected in its:
+ Use of non-GMO, organic, whole-food, and clinically-proven ingredients
+ Uncompromising efforts to manufacture products without artificial ingredients, Stearates, Laurates, Sulfates, and Dioxides
+ Voluntary, extensive third party testing of all raw materials and finished products for identity, purity, potency, and safety
+ Resolute efforts to ensure that all products are free of contaminants, adulterants, allergens, and GMOs
+ Unwavering commitment to transparency, accountability, and truth in advertising
+ Initiatives to educate consumers so they can make informed decisions that affect their health
Website: nutrigold.com
Phone: 1-866-224-4680
Facebook: facebook.com/NutrigoldUSA
Google Plus: plus.google.com/+NutrigoldUSA
Twitter: twitter.com/Nutrigold_USA
FREE Product Samples: http://www.nutrigold.com/Free-Samples