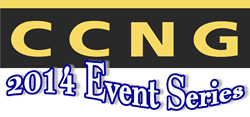 The value in participating came from sharing best practices and hearing different perspectives on how to address obstacles...
Fort Worth, Texas (PRWEB) June 30, 2014
CCNG International Inc. is pleased to announce their upcoming August event schedule for the 2014 Improving the Customer Experience event series. In August, the first event will be the annual Contact Center Executive Summit in greater Fort Worth, TX on August 4th and 5th. This is the only 2-day event hosted by CCNG as an "invite only" program for senior level management selected from the CCNG membership. This event is followed by the August 14th event in Colorado Springs, CO hosted by Colorado Springs Utilities in their contact center operations. The event on August 21st in the greater Boston area will feature host Liberty Mutual Insurance at their Springfield MA operations center.
These August events follow the CCNG July events which include July 10th hosted by Publicis Touchpoint Solutions, the July 17th event in Oklahoma City, OK with host Teleflora and in Charlotte, NC on July 24th hosted by AXA.
All CCNG events will focus on strategies and best practices for customer service and contact center operations can improve overall levels of customer experience in five key areas –
Call Center/Contact Center
Customer Loyalty and Rewards
Social Media/Social Care
Customer Feedback and Satisfaction
Self Service and Support
"We are having such great turnout by the regional area members and contact center, customer experience management helping to drive the discussions at these events" says David Hadobas, President and CEO of CCNG International Inc. "It will be exciting to get back to some of the areas we have not held meetings for some time as we work with members in Colorado Springs, Springfield and upcoming in Tulsa next month."
The 2014 CCNG events began February 27th and have featured member host operation centers including Thompson Creek Window Company / Closet America, Family Dollar, Coca Cola, Toyota Financial Services, Kohl's, JP Morgan Chase, Ossur Americas and Elevate.
What are contact center, customer service and customer experience management attendees saying about participation in CCNG events?
"The value in participating came from sharing best practices and hearing different perspectives on how to address obstacles that can arise in a call center. I left the day with themes on how we could think differently based on some of the discussion with the other attendees." - Kim Abramshe, Retail Investment Services, Group Manager, T. Rowe Price.
"The ability to freely communicate our shared opportunities is great. It is so refreshing and valuable to be in a setting (not in conflicting industries) to comfortably share best practices. Thank you CCNG!" -
Michael Brouillette, Division Manager, Charlotte NC CCC, Allstate Insurance Company.
"The value of participation with this event played such an important role with the participants learning and real- life connections! The active learning and discussion was invaluable for everyone! I had an amazing experience." - Tamara Schroer, Vice President, Development & Performance, Working Solutions.
These upcoming August events will feature presentations, group discussions and site tours from hosting members. Each event has a very interactive agenda to engage attendees, sponsors and presenters throughout the day.
CCNG partners sponsoring the July and August events include Voice Print International (VPI), Avaya, OpenSpan, Intradiem, Aspect Software and InMoment, and Five9. For details on how to attend, guest pass availability and membership options, please contact Ginger Graber, ggraber(at)CCNG(dot)com.
View program details at http://www.CCNG.com.
CCNG International Inc.
Founded in 1992, CCNG International Inc., CCNG is a member Professional Peer Network (PPN) for Contact Center and Customer Service Executives, Managers, and Leaders. Within the CCNG Member Network, Contact Center and Customer Service Professionals:
Connect for networking and sharing best practices.
Interact to enhance their professional network and gain valuable insight into Contact Center and Customer Service best practices and technology.
Share their experience and ideas contributing to the valuable discussion. All Call Center, Contact Center, Customer Care, Customer Service, and Customer Experience Professionals are invited to participate in the CCNG Member Network.
For more information about the CCNG Member Network and to gain access, please visit CCNG.com. "Like" us on Facebook and follow us on Twitter @CCNGNetwork.