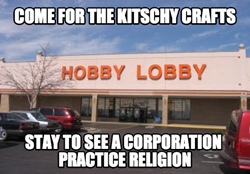 As a man, I don't like being treated better than a woman-- I believe chivalry is not dead.
Peoria, IL (PRWEB) July 01, 2014
According to the Supreme Court, the Religious Freedom Restoration Act (RFRA) allows an employer to regulate contraception for female employees because of its religious beliefs.
Why does the law allow for corporations to practice religion? A statute from over twenty years ago enables a privately held corporation to withhold medical coverage for treatment it believes violates its sincerely held belief. Or as an objective voice would call it, gut-feelings trump scientific health benefits for Hobby Lobby employees
"Corporations don't go to heaven," says Callitics CEO, Tom Howard. To instill that fact to Congress, his app, Callitics, is giving away its software for a call to Congress insisting that RFRA be amended.
"I'm a man, and I don't like being told what to do," says co-found Henry Getz. "Imagine that sense of resentment, but bigger because women have larger limbic centers in their brain," explained Dr. Getz, who left the practice of medicine for options trading and software development.
The political consulting start up is providing its viral call on the issue free of charge.
Callitics is a Peoria, IL based political consulting 2.0 firm specializing in elections, campaign finance and legislative influence based on their viral call software platform. For more information download the Callitics app from the App Store or Google Play.