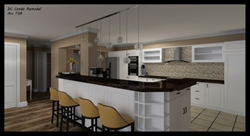 We want to bring high-end, creative, but affordable design to everyday small-scale home remodeling projects.
Cambridge, MA (PRWEB) June 30, 2014
Arcbazar announces a creative web resource to redesign condos and other modern city living spaces.
Condos redefine the ultimate trendy city living. Creating spaces that are simultaneously cozy, modern and functional requires more than imagination. Maximizing the living and storage spaces, making the best use of layouts and light, or creating dedicated functional areas are top challenges. Many condo owners need help to recreate and personalize their great homes. Arcbazar comes to the rescue with an innovative crowdsourcing approach that let homeowners connect with architects around the globe for out-of-the box creative design.
Arcbazar runs international architectural and interior home design competitions. Each project is launched online and designers worldwide compete and submit solutions for the new space. Clients can then choose the solution they like most based on their initial evaluation criteria. "We want to bring high-end design to everyday small-scale home remodeling projects. We want our clients to be able to create their dream spaces in an easy, affordable and fun way," says Imdat As, founder of Arcbazar.com. Hundreds of clients around the globe have already used Arcbazar for successful home remodeling, landscape and interior design projects. "We have helped clients build great kitchens, bathrooms, basements, living spaces and landscapes."
Sanjay B., from Washington DC, had a condo and needed help with remodeling to be able to open up the space. "We are looking to remodel the kitchen and dining room in our condo into an open concept area... to achieve beauty, elegance, and efficiency." Sanjay run a design competition on Arcbazar and received twelve proposals, ultimately opting for a design from Ivanka Koleva, an architect from Bulgaria. A similar experience had Betty C., from NY, who owns a city duplex and wanted " help conceptualizing the space and design ideas on the second floor of the loft." The competition received eighteen great entries with the winning proposal coming from Oleg Anzarov, a designer also from Bulgaria.
About Arcbazar
Arcbazar.com, Inc. is the first-of-its-kind online crowdsourcing platform for architectural design projects. The company connects clients with designers worldwide, and allows clients to run competitions for their remodeling, home, commercial and interior design projects. To see these great home projects and learn more, visit http://www.arcbazar.com.