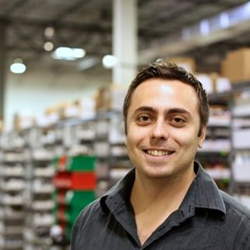 I've done every job there is to do in Digital Marketing
Miami, Florida (PRWEB) June 30, 2014
"My mission is to provide a full range of digital marketing services to businesses small and large, to generate online exposure, quality leads, and increased sales for products and services," Yevgeny says.
Possessing the experience of incorporating every aspect of Digital Marketing into a one unified campaign creates the ability to make data driven decisions, Yevgeny's goal is to manage this data while increasing value and results for every business.
His new blog (YevgenySenkevich.com) is primarily focused on digital marketing, retail, technology, advertising, mobile, usability, design, traffic generation and conversion. He will provide the latest industry trends, news, and strategies for every marketer in every company. Yevgeny aims to grow readership and a following as he stays a breath to forecast the future of digital trends.
When he was in Florida State University as a student, Yevgeny taught himself how to use Adobe Photoshop. He became so interested he purchased books from local bookstores on all the Adobe products and creating his first online resume which he used to land himself his first job. Yevgeny Senkevich started out doing some online marketing and sales in the currency exchange market based out of Miami Beach, Florida. He learned how to market online, sell in person, follow up on the phone, and trade currencies. Learning how to chart graphs lead to his interest in analytics. Soon after, he left and began working in a small local dental marketing agency as a website designer. He wanted to learn how to make his designs into websites, so he started teaching himself how to write code using Wordpress. Soon after, he was able to create a design and make a Wordpress Theme from scratch. His tenure did not end there as he jumped on the early train of the Social Media movement and began to consult dentists on best practices. He was promoted shortly after to the Social Media Marketing Director position. Growing up in a small company can be tough so he decided to jump into WebaTonic (the founder of the technology startup) and start his freelance websites design and marketing business. He knew he had to gain traction so he slowly taught himself SEO, email marketing, and paid search, adding further to his skill set.
After a tedious year, he still needed big agency experience, so he was hired by SaveOlogy as their SEO Strategist for all telecommunication accounts including Comcast, ATT, Verizon, Time Warner Cable, and COX. He learned how to run large scale campaigns and work with enterprise level clients. Soon after, he decided that he wanted to focus on one particular brand and get away from the agency mentality. He was contracted by Carnival Cruise Lines as a Project Manager and Web Analytics consultant, managing IT scrum teams and finding new revenue inside Carnival.com. He consulted to Condos.com, CheckWay.com and many others. He is currently contracted by one of the fastest growing online retailers in the US PureFormulas.com as a Digital Marketing Strategist and is traveling appearing in conferences throughout the country. Yevgeny is truly an up and comer in the digital marketing arena.