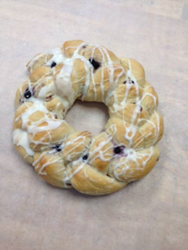 You'll be sure to feel more patriotic after having a bite out of this loaf.
San Luis Obispo, CA (PRWEB) June 30, 2014
House of Bread celebrates our nation's birthday by creating a red, white and blue loaf. The Fourth of July loaf is braided and contains dried cranberries, dried apples and fresh blueberries on top. Then the loaf is topped with frosting. Perfect loaf for the picnic table on 4th of July. House of Bread also continues the red, white and blue theme into our muffins and scones for the day. Come see all the color-starting July 3rd-6th.
If you'd like to make your own loaf at home, the recipe is below.
Yield amount is approximately three pounds of dough to make two braided loaves.
1 1/2 cups of warm water (approximately 100 degrees)
4 cups of unbleached flour (approximately a pound)
2 packages or one and 3/4 tablespoons of active dry yeast
1/4 cup of honey
1/4 cup of dried or sliced apples
1/4 cup of dried cranberries
3 Tabespoons of vanilla
1 tablespoon of salt.
Knead the dough for 6-8 minutes until the dough stretches, and holds together. It should be smooth and free of lumps.
Once you have the good dough stage, then divide into half. Then divide each half into three equal pieces and braid it. Once it is braided you can add fresh blueberries, strawberries or any other red, and blue themed fruit. You just don't want to use frozen fruit or fresh berries in the mixing as it turns the dough purple and/or red.
Bake for 40 minutes in a 350 degree oven.