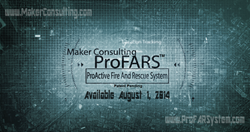 Maker Consulting has successfully engineered an emergency management system specifically designed to merge government resources with civilian populations.
(PRWEB) June 30, 2014
For countless years people have relied upon heroic men and women to serve, protect, and ensure public safety. They have braved our fires, fought our battles, and worked tirelessly behind the scenes. Unfortunately in our society, tragic events have become the norm, and each situation has shown that advances within emergency management systems are not only essential, they're lifesaving.
Maker Consulting, a private firm with experience in Emergency Management, Private Security, and Information Technology, recently launched a new website http://www.ProFARSystem.com to showcase their new patent pending approach to public safety. The ProActive Fire and Rescue System "ProFARS™" Mobile App will allow any individual user to work directly with local Emergency Departments by sharing, updating, and alerting one another. ProFARS™ Mobile App users will be able to create and manage a family emergency plan and share this information with first responders and additional family members. Another key feature of the ProFARS™ Mobile App is that it provides individual users the ability to enable (or disable) location based tracking and alerts in the event of an emergency. In essence, as a ProFARS™ Mobile App user moves from one location to another, they are able to receive location specific alerts. If the situation merits the user providing their location, they have this ability at their fingertips. For additional privacy and security, ProFARS™ users can also determine the amount as well as the type of information they wish to share.
From a single home or commercial building, to a county, state, or national level, ProFARS™ can obtain critical information, disseminate plans, and alert dynamic populations. For Fire and Rescue, Police, and various other emergency departments, ProFARS™ offers a Web Based Application. While the complete functionality for the ProFARS™ "Government" is unreleased, the core system offers a wide range of information and capabilities. Among these are items like physical property characteristics, fire planning, emergency operating procedures, and most importantly ProFARS™ Mobile App data. By working directly with the ProFARS™ Mobile App, Fire and Rescue departments are now able to access previously unattainable information. This also allows Fire and Rescue departments the ability to alert individuals based on their physical location(s).
Unlike conventional emergency management systems, Maker Consulting developed ProFARS™ to be scalable within any environment. For individuals or companies wishing to increase their own emergency management capabilities, the ProFARS™ Web Based Application for "Commercial" users is available. This system is similar to the ProFARS™ "Government" user Interface with one major difference; the "Commercial" user is limited to their specific properties.
Maker Consulting has successfully engineered an emergency management system specifically designed to merge government resources with civilian populations in regards to emergency management and information sharing. ProFARS™ is scheduled to be released in August 2014, and additional information may be found at http://www.MakerConsulting.com or http://www.ProFARSystem.com.