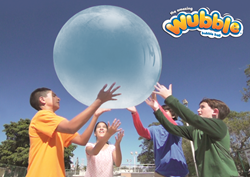 The Wubble™, a dad-invented product, is the perfect recipient for an award from Mr. Dad.
New York, NY (PRWEB) June 30, 2014
NSI International is pleased to announce that the Wubble™ bubble ball has won a Mr. Dad Seal of Approval. A dad-invented product is the perfect recipient for an award from Mr. Dad.
"One day, while blowing giant bubbles in front of our house, one of my kids said, 'I wish I could play with that giant bubble, daddy!' My little ones truly looked disappointed that they couldn't actually play with their bubbles. And it was a eureka moment... And I said 'I bet you can!'," explains Frank Landi of NSI International. It took three years and thousands of man hours of research & development to create the award-winning Wubble™ bubble ball.
"The Wubble™ bubble ball is the type of product you get when you're the father of four creative children, you're in the toy business, and your kids make the right wish at the right moment!," says Landi.
Founded by Armin Brott, one of the country's leading experts on fatherhood, the Mr. Dad Seal of Approval is awarded to products that strengthen father-child relationships by getting dads and kids engaged and having fun together.
"The Wubble™ Bubble Ball looks like a bubble but plays like a ball. It spins, floats, soars, just like a bubble. Take it to the park and kids will drop everything they're doing and ask to play," says Armin Brott.
The amazing Wubble™ bubble ball looks and moves like a bubble, but you can play with it like a ball. Made from a unique thermo-stretch material, the Wubble™ bubble ball's patent-pending technology makes it squishy, strong and incredibly lightweight. It comes with a battery-operated air pump and easily inflates in about three minutes. Great for outdoor or indoor use year-round, the Wubble™ ball is reusable and washable. It inflates to 3 feet tall but deflates quickly for easy storage.
The Wubble™ bubble ball is available in blue and red at Wubbleball.com and at Target stores nationwide in the sporting goods section. The starter set comes with a portable pump and deflator (for easy storage) and retails for $19.99.
Follow Wubble™ bubble ball on Facebook and on Twitter.
XXX
ABOUT NSI INTERNATIONAL INC.:
NSI International Inc. is a global marketer and manufacturer of innovative toys and children's products under such established brands as Nickelodeon, Smithsonian and Oglo sports. NSI is headquartered in New York City, and its products can be found in thousands of retail locations in more than 30 countries around the globe. © 2014 NSI International, Inc. All Rights Reserved.