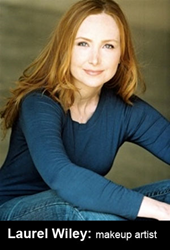 The only wedding makeup artist in New England with Hollywood union makeup experience.
Portland, Maine (PRWEB) July 02, 2014
Hollywood makeup artist Laurel Wiley has announced the launch of her new wedding makeup site, MaineMakeupArtist.com, which specializes in bridal airbrush makeup services. Wiley's stated aim is to provide the unique and individualized glamor to brides that she brought to movie stars. As Wiley stated recently, "I'm committed to treating each bride's special day as if it was my own!"
The new site seeks to serve the expanding need for high-end wedding makeup services in the Southern Maine-Northern New Hampshire area, where Wiley has established a base of operations in addition to her ongoing efforts in Hollywood, California.
Wiley's expansion into Portland serves as a homecoming for her company as her parents live in nearby Kennebunkport, Maine and her sister lives within the Portland city limits. Wiley has spent the last 20 years as an in-demand makeup artist in Hollywood, working on many film and television productions for major networks such as ABC, NBC, Fox and MTV Networks and she has worked with film and music celebrities including rock legends Ann & Nancy Wilson of Heart, Red Hot Chili Peppers, actor Christopher Walken to name a few.
Wiley owns and administrates a makeup artist training school in Hollywood, "Studio Makeup Academy", that focuses on training new makeup artists for the film and television industry and providing guidance to up-and-coming artists.
Wiley has achieved the extraordinary status as an official member of the Hollywood Makeup Artist Union, and is the only wedding makeup artist in New England offering her clients this type of A-list level of experience and recognized professionalism.
For more information on Maine Makeup Artist, its services and consultation, please visit http://www.MaineMakeupArtist.com or call 207-604-9298.
Follow us on Facebook Maine Makeup Artist.
For Media Maine Makeup Artist] Inquires or Interviews contact Yvette Morales, YM & Associates at YMoralesY(at)YM-PR(dot)com.
Yvette Morales
YM & Associates
PR | Marketing | Branding
California | New York
949-244-9769
YMoralesY(at)YM-PR(dot)com
YM-PR.com
@YMTheBevHillsPR