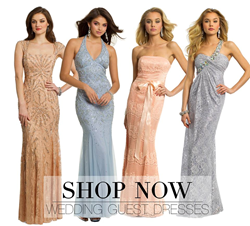 When attending someone's wedding day, soft colors designed with lovely details of lace are a fantastic option, and they're just perfect for the beautiful summer season.
Secaucus, NJ (PRWEB) July 01, 2014
The event highlight of the summer season is all about weddings. And as you receive your invitations, send out your RSVPS and mark your calendars, Camille La Vie continues to roll in new styles in preparation for the wedding guest shopping days. The major retailer of social occasion dresses has recently launched a well-edited collection of looks comprised of updated party styles. And the top hues in this fashion category are all about light palettes consisting of neutrals, aquas, seafoams, powder blues, pinks, soft greens and so many more color combined with elements of lace. In addition, they have also expanded their collection to include more unique designs, lengths and shapes to complement every shopper's personal tastes and body types. For the ultimate experience in scouring all the latest styles, shoppers can visit the glamorous virtual racks of the retailer's e-commerce site, CLV.com, as well as its many brick-and-mortar store locations throughout the nation.
For a balanced mix of red-carpet worthy style meets chic wedding guest attendee, shoppers will love the range of new and highly on-trend lace dresses to wear in tribute to their loved one's special day. Some of the most coveted looks for this unforgettable occasion include the all-over lace trend, which has served as a timeless style favorite throughout many seasons. The combination of decadent fabric in a light-colored hue like champagne or pale pink creates the ultimate chic party look that's fabulous yet tastefully understated for a wedding event. This ideal design element works wonderfully with light colors as it creates a beautiful and aesthetically pleasing look that's simultaneously seamless, elegant and modern. Other classic wedding guest looks that are undoubted style favorites include wispy chiffon evening gowns, charmeuse halter dresses, strapless mermaid gowns, day-into-evening short dresses like high-lows, tiered handkerchief hemlines, and many more.
When asked about what to look for when shopping for wedding guest dresses, President of Camille La Vie & Group USA, Denise Viotti says, "When attending someone's wedding day, soft colors designed with lovely details of lace are a fantastic option, and they're just perfect for the beautiful summer season. And the best part is that it won't be reserved for a one-time wear occasion. These dress styles transition easily into many other party events."
About Camille La Vie & Group USA
Camille La Vie & Group USA is a one stop boutique to all things party dress chic in prom dresses, homecoming dresses, wedding dresses, social separates, day into evening dress styles, bridal, formal accessories, jewelry and shoes. They offer one of the most extensive and stylish collections of special occasion dresses that can be found under one fabulous roof! Since its inception in 1985, the company's motto of "to provide customers with the latest dress fashions at an affordable price" has made them a leading retailer in virtually all categories. To date, Camille La Vie & Group USA has expanded to a total of 24 stores nationwide.
In select Camille La Vie & Group USA stores, customers will discover a collection of bridal apparel including wedding dresses, bridesmaid dresses, flower girl dresses, mother of the bride dresses and guest of wedding dresses. Camille La Vie & Group USA also provides bridal alteration and consulting services. So whether your style is classic and elegant or modern and chic, Camille La Vie & Group USA will outfit stylish women of all types without breaking their bank.
If you're in a committed search to score a certain dress style, Camille La Vie & Group USA is your one-stop source for all things pretty – from on-trend high to low dresses, mirror stone and chunky beaded bodices, bright and bold hues, florals and animal prints, handkerchief, godet and trumpet hemlines, subtle detailing or all over sequins, one shoulder, crisscross back or cut out silhouettes to cascading ruffles and fun, frilly poof A-line skirts in tulle, Camille La Vie & Group USA's fashion styles are seemingly endless! And the options do not just stop there. Follow Camille La Vie on Instagram and Twitter at @camillelavie, as well as on Facebook and Pinterest.