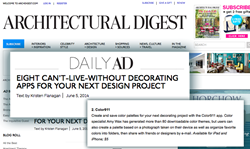 'I am thrilled to have the Color911© app, featured by one of the most highly respected publications in the design world,' says Ms. Wax.
Montclair, New Jersey (PRWEB) July 01, 2014
Color911©, an innovative color app for design and color inspiration, was recently featured by Architectural Digest as one of only eight "Can't-Live-Without Decorating Apps for Your Next Design Project." The high-end design magazine recognized the app's unique features that have the ability to inspire everyone from a design professional to those who enjoys using color in any form of design.
The highly regarded design magazine also recognized Color911©'s founder, celebrated color consultant and artist Amy Wax, for providing over 80 of her pre-made color themes available for download through the app. As the ultimate resource for decorating and renovation, Architectural Digest provides ideas and inspiration to a widely diverse audience, spanning from DIY beginners to well-established design professionals. The Color911© app, with its user-friendly interface, intuitive features, and innovative functions for color inspiration and organization, was created for people with all levels of design expertise, with no learning time required.
With that in mind, Architectural Digest promoted the app as the perfect tool for its audience to use for all upcoming design projects. Color911© allows its users to create their own colors, as well as experiment with different shades and combinations from images and pre-made color themes made by Ms. Wax. The color app encourages its users to explore the many ways one can use color for inspiration, no matter the purpose.
Amy Wax exclaims, "I am thrilled to have the Color911© app recognized by one of the most highly respected magazines in the design world. It was my vision to provide people with color help at their fingertips. To know that it is truly helping others inspire their design, whether it be for fashion or home decor, is beyond gratifying for me as a design specialist with a passion for color."
Color911© has already received noteworthy attention and appraisals from highly acclaimed media sources, including being named a Top 100 Best New Home Product in 2013 by This Old House and recognition by Sacramento Street's Caitlin Flemming in a featured article on her blog naming the app as a "Must-Download in 2014!". In the article, Caitlin proclaims, "If you're a design enthusiast, this one's for you!"
To see Architectural Digest's feature article, read http://www.architecturaldigest.com/blogs/daily/2014/06/apps-for-decorating-renovating.
The Color911© app is available for purchase online at https://itunes.apple.com/us/app/color911/id586925023?mt=8 for $4.99, as well as downloadable on iPhones, iPads, and the iPod touch with iOS system versions 4.3 and later. To learn more about Color911©, go to: http://www.Color911.com.
Architectural Digest:
Architectural Digest is the world's leading design publication, with a total audience of nearly five million. Its readers are successful, sophisticated and well-read; they recognize and appreciate good design. Started in 1920, Architectural Digest's more recent online Daily AD is the ultimate resource for decorating and renovation ideas and inspiration.
About Amy Wax & Color911©:
Amy Wax, owner of Your Color Source Studios, Inc. has been a successful color consultant that has been nationally recognized for her expertise. Author of two best-selling books, Can't Fail Color Schemes published by Creative Homeowner she received numerous awards on her work including Book of the Year and Independent Publishers Award Gold Medal Winner. She is a past President of the International Association of Color Consultants of North America. Ms. Wax is also the first color consultant to be awarded the HUE award from Benjamin Moore where she was awarded for her 'immense talent and vision in the world of color'. Amy created the Color911© app, which is being credited as the best app of its kind. For more information, please visit: Color911.com.