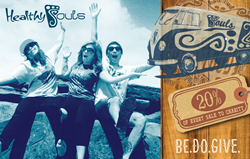 With the purchase of any hat, we can help make an impact in the lives of someone else.
Port Orange, Florida & San Diego, California (PRWEB) July 01, 2014
Healthy Souls Apparel announces new hat line and charity allowing 20% of every purchase to be donated to Knots of Love to provide hats to Chemo Patients.
We will also be adding this cause and charity as an option for customers to select for the 20% of any apparel purchase to also be donated.
Knots Of Love is an organization that helps provide hats to children, men, and women undergoing Chemotherapy, burn victims, brain surgery patients, head trauma patients, and individuals with Alopecia.
Healthy Souls is continuing to add new products lines and charities to help provide customers who desire to shop responsibly and make an impact in the lives of others through our every day purchases.
Healthy Souls Apparel
http://www.healthysouls.org
BE.DO.GIVE