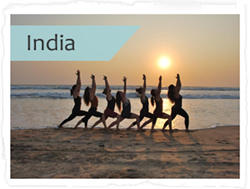 (PRWEB) July 01, 2014
Limited spots are available for the course. Drishti will limit participation to only 20 students to ensure an excellent student to teacher ratio. The location will be on Patnem Beach in South Goa. "The vibrant culture, the friendly people and the amazing food make it the perfect setting for our Yoga Intensive." Explains Co-Founder Sarah Walsh.
The Drishti Yoga Teacher Training in India will be held right on the tranquil beach with fiery sunsets to cap off each day. "We specifically chose Patnem Beach, Goa because of the laid back, casual vibe of the area and it's low cost." Students can take advantage of inexpensive massages, take a daily dip in the Arabian sea or even visit the famous Anjuna Market, one of the biggest and most colorful markets in the world.
Students will have a chance to participate in Seva or selfless service by volunteering in the local community. Honoring the locals and giving back is part of Drishti Yoga Teacher Training main messages and belief. "We clean up the beach almost everywhere we go," says Co-Founder Carri Uranga. "Last time we were in Goa we also raised funds for the local school to buy much needed school supplies."
About Drishti Yoga Teacher Training
Discover the impact of intimate personal attention combined with focused training in exotic locations with Drishti Yoga Teacher Training. Combine your passion for Yoga and your love of travel to create a transformative experience on and off the mat.
Upcoming trainings will be held in India November 10th- December 4th 2014 and Thailand from February 5th- March 1st 2015, and Costa Rica from March 23rd- April 15th 2015. For detailed information on these trainings and to find how else Drishti is making a ripple effect in the Global Yoga Community, please visit us on Social Media & our Website. You can find us on Pinterest here.