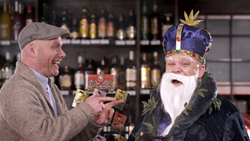 World Class Cannabis Seeds
Vancouver, British Columbia (PRWEB) July 03, 2014
On July 3nd, 2014 the world's first marijuana commercial will be unveiled. This 60 second television quality commercial is being produced by High Deaf Productions & Red Castle Films in Vancouver, BC and will feature professional actors and directors.
This video commercial can be viewed by anyone over the age of 18 by clicking the following link:
http://www.cropkingseeds.com/commercial
As more states, cities and countries legalize and ponder the full legalization of marijuana, it is time to discuss taking this plant away from the criminal underground and bringing it into the open so we can regulate this industry and generate taxable income for our parks, schools, and social programs.
We are very proud to be able to say we will go down in history as having created the "world's first marijuana commercial"!
Crop King Seeds is a cannabis seed company based in Vancouver, BC, Canada. Their line of products feature such well known strains like White Widow, Candy Cane and Haze. Featuring 24 hour live customer service, same day shipping and promotional merchandise such as Hats, T-shirts and catalogs. Their products can be found in over 100 stores across Canada and through direct online sales.
Crop King Seeds is also a major sponsor of non-profit organizations across Canada and can be found in various magazines and online publications. Crop King Seeds can be ordered online and in retail stores.
For media inquiries, sales, distributorship rights and/or investment opportunities please contact us directly.
World's first marijuana commercial can be viewed here
https://www.youtube.com/watch?v=UYuhIM3Zz3o