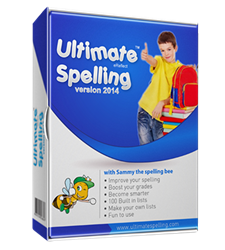 Families and entire classrooms can improve their spelling skills by purchasing a single software license...
New York City, NY (PRWEB) July 01, 2014
A detailed review of Ultimate Spelling™ is available at Top Ten Reviews, eReflect announced today. The editors at Top Ten Reviews gave the program a score of 9.88 proving that this software leaves its competitors far behind. Ultimate Spelling™ ranked first in its category thanks to the breadth and quality of its features, and the materials and resources provided to the user.
In the most important categories (features, resources, and progress reporting), Ultimate Spelling™ received the maximum score of 10, a fact that pushed it right to the top position. The editorial team also mentioned the software's affordability as another highlight. The software is offered at a mid-range price, which adds further points to its worth in these evaluations, and it's a defining factor that highlights the software's efficiency and premium status.
According to the editors at Top Ten Reviews, Ultimate Spelling™ stands out due to its database of more than 140,000 words, and its many games, practice lessons and other activities. It is a well-organized and easy-to-use spelling program. Its extra features like printable word lists, flashcards, and worksheets were also duly appraised by the reviewers.
Its progress tracking technology was thoroughly evaluated too, with the reviewers paying attention to features and capacities such as progress tracking pie charts, progress timing, and quiz-specific progress monitoring for better evaluation of each user's improvement.
The spelling software review also mentions the suitability of Ultimate Spelling™ for all ages, from ESL learners to elementary and high school students. Another plus that the reviewers at Top Ten Reviews pointed out is the user's ability to create an unlimited number of individual accounts, each of which is tracked separately by the system. Families and entire classrooms can improve their spelling skills by purchasing a single software license, as eReflect offers this multiple user account capacity to all customers.
eReflect wishes to thank the Top Ten Reviews editors for their exhaustive and positive review of Ultimate Spelling™, revealing how flattered the company feels for having its software recognized by opinion leaders. eReflect also confirms that the company will continue improving Ultimate Spelling™ so that more people can easily and affordably improve their spelling skills.
***
For more information about how Ultimate Spelling software can improve spelling performance for you and your family, please visit the official website at http://www.ultimatespelling.com.
About Ultimate Spelling™
Ultimate Spelling provides a modern and easy to use spelling software that has been designed with one goal in mind – making children want to learn.
It is a fast and easy way to master even the most complicated spelling, without the need to write long lists or complete boring tests.
In fact, Ultimate Spelling provides more than just spelling help. It is a complete educational resource that boosts all level of a child's literacy.
Containing a personal computer tutor, Ultimate Spelling is the most realistic step-by-step guide to flawless spelling ability.