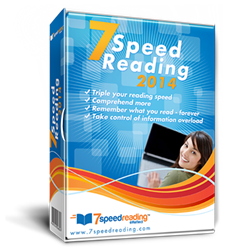 People can learn to speed read with the various games and activities provided by creating their own account.
New York City, NY (PRWEB) July 02, 2014
7 Speed Reading™ has been touted as an industry leader by TypingLounge.com, eReflect proudly announced today. The TypingLounge editors have assessed 5 top speed-reading improvement software products and presented their ratings. 7 Speed Reading™ defeated all competition and was awarded the number 1 spot. The Typing Lounge review team said of 7 Speed Reading™, "7 Speed Reading is one of the industry leaders in speed reading software simply because it is the most feature rich and user friendly software available."
TypingLounge.com extols some of the most popular features of 7 Speed Reading™, including its easy to follow video tutorials. According to the reviewer, these tutorials save the user a lot of time as they don't have to teach themselves speed reading theory before using the program. Instead, they are able to start in right away with the help of the real-time instruction provided with the exercises.
The training course and structure of the program were also praised by the Typing Lounge editors, who highlight the courses' comprehensiveness, ease of use, and effectiveness in teaching people how to touch type. The progress tracking technology is extensively covered too, with the editors making a point to describe the way the program gives the learner an accurate picture of their speed reading improvement and motivates them to further work on their reading speed and comprehension.
The ability of many users to use the same software without having to purchase separate licenses is another advantage of the speed reading program. People can learn to speed read with the various games and activities provided by creating their own account.
What's more, users will not have to worry about running out of practice material, since 7 Speed Reading™ offers nearly 600 ebooks that cover a wide range of topics. This wealth of reading material means that users can enhance their reading speed while boosting their knowledge on topics of interest to them.
Typing Lounge gives 7 Speed Reading™ an overall score of 9 out of 10. The editors conclude their review by emphasizing that the program is the most complete and effective software to help people achieve faster reading speeds. eReflect wishes to thank Typing Lounge for their comprehensive and complimentary speed reading software review and reassures everyone the company will continue offering industry leading tools for self-education.
For more information about the benefits of using 7 Speed Reading, please visit the official website at http://www.7speedreading.com.
About 7 Speed Reading™
7 Speed Reading is the only modern speed reading software that uses the latest technology to produce superior results.
The software provides its users with a new way to master speed reading that guarantees three times the reading speed along with improved memory and comprehension.
The software is poised as the most comprehensive speed reading system anywhere. It contains seven learning strategies, fifteen software activities, video training, advanced tracking capabilities and many more exciting features.