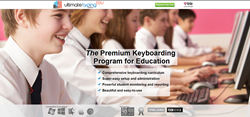 Keyboarding is an essential skill for every student.
New York City, NY (PRWEB) July 03, 2014
Ultimate Typing™ EDU, the latest typing mastery solution by eReflect, is now available to every teacher and school administrators around the world for a guaranteed no payment trial. This offer by eReflect aims to help teachers see how easily Ultimate Typing™ EDU, a cloud-based program, can be integrated into existing school curricula.
Ultimate Typing™ EDU is typing software for schools that's easy to set up and manage and offers a wide range of tools for teachers to make typing classes efficient. With state-of-the-art progress monitoring technology, the program lets teachers chart students' typing practice in real time and adjust their learning goals and practice so as to optimize their learning and fast forward typing mastery.
Keyboarding is an essential skill for every student, eReflect contends, and Ultimate Typing™ EDU has been designed to be the go-to cloud program that students and teachers alike can use to hone their keyboarding skills. Teachers willing to provide this skill to their students can request a no-cost trial of Ultimate Typing™ EDU through the official Ultimate Typing™ EDU site and see firsthand the resources and tools the program provides, as well as its capacity to make keyboarding learning a fun, effortless, and above all time-efficient experience.
Ultimate Typing™ EDU is especially designed for the classroom. eReflect made sure that it is a complete school typing class in itself; the program offers teachers an all-in-one service so that they don't have to add extra typing activities. Ultimate Typing™ EDU helps students get rid of ineffective typing methods and adopt the most effective and accurate typing habits.
eReflect has decided to provide a no-cost trial of Ultimate Typing EDU to give schools and teachers worldwide the opportunity to see how the typing tutor can make keyboarding a fun and easy experience for their young students. eReflect invites teachers and school administrators to request a trial of Ultimate Typing™ EDU and see how they can easily equip students with this essential life skill.
*********
For more details on Ultimate Typing™ EDU, please visit http://www.ultimatetyping.com/schools.
About Ultimate Typing™
Ultimate Typing™ software is designed specifically for the improvement of typing skills. Created by eReflect, a world leader in e-learning and self-development software, Ultimate Typing™ has been informed by the latest developments in the science of touch typing.
Since its creation in 2006 by Marc Slater, the company has already catered to over 112 countries all over the world, offering products with the latest cutting-edge technology, some of which are among the world's most recognized and awarded in the industry.