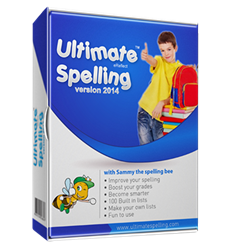 Good spelling skills are one sign of a detailed-oriented person.
New York City, NY (PRWEB) July 07, 2014
eReflect offers guidance and relief to people misspelling words, especially the words with only one letter's difference. Is it affect or effect? What about complement and compliment? eReflect sheds some light on the most commonly misspelled words of English in their latest blog post titled, "A single letter can make a difference when spelling out a word."
eReflect, developer of Ultimate Spelling™, explains the difference between confusing word pairs such as affect-effect, compliment-complement and cite-site to help everyone use the right word in the right context and avoid embarrassing themselves.
Why do people have so much trouble when they are learning how to spell words with a single letter difference? It is often argued that English spelling makes life harder for ESL speakers, and even for people who have English as their first language. People keep confusing "affect" with "effect" and write "complement" when they were intending to write "compliment," because a single letter difference can be easily overlooked or forgotten.
Good spelling skills are one sign of a detailed-oriented person. People who confuse two words with a single letter difference sometimes do so not because they lack spelling skills, but because they lack focus when spelling a word.
Better spelling is not only what people know, but how professionally they apply that knowledge. People often type in haste so it's very common that words such as "bazaar" and "bizarre", "eminent" and "imminent" are widely confused. If a person can say "I spell well" then they can be confident they have mastered this lack of focus. They can be confident that they won't miss a single letter when spelling a word, and they will never have to worry about ruining formal, corporate communication with misspellings.
Ultimate Spelling™ software helps people improve their orthography skills through a comprehensive approach that includes games, lessons, and activities such as Spelling Workout and Save Stick Man.
Based on the educational principles that accelerate language learning, Ultimate Spelling™ gives both adults and children strong spelling knowledge from basic to advanced skills, so that an Ultimate Spelling™ master never confuses "adopt" with "adapt", "climatic" with "climactic," or "allusion" with "illusion" again.
***********
For more information about how Ultimate Spelling software can improve spelling performance for you and your family, please visit the official website at http://www.ultimatespelling.com.
About Ultimate Spelling™
Ultimate Spelling provides a modern and easy to use spelling software that has been designed with one goal in mind – making children want to learn. It is a fast and easy way to master even the most complicated spelling, without the need to write long lists or complete boring tests. In fact, Ultimate Spelling provides more than just spelling help. It is a complete educational resource that boosts all level of a child's literacy.
Containing a personal computer tutor, Ultimate Spelling is the most realistic step-by-step guide to flawless spelling ability.