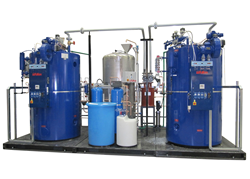 Bristol, UK (PRWEB UK) 2 July 2014
Steam from the skid-mounted package, which features two Fulton 60J boilers plus ancillaries, is used during the washing and sterilising of surgical equipment and instruments at the hospital's temporary central sterile supply department (CSSD).
Commenting for Hulley Kirkwood – the consulting engineers responsible for the CSSD and specification of the Fulton system – Richard Boocock says: "Steam is fundamental to the CSSD, and we needed a system that could raise sufficient amounts and in a relatively short period. Fulton boilers are renowned for this and, fortunately for us, they are manufactured in Britain and also right on the doorstep of Southmead Hospital. This means Fulton can also offer immediate back up in the event of any servicing requirements or maintenance issues."
The washing process at Southmead's new CSSD involves rinsing used surgical equipment in cold water before it is then washed in hot water, with steam from the Fulton boiler system being generated to indirectly heat water to a temperature of approximately 80 degrees centigrade. Once the surgical instruments are washed and re-packaged, raw steam (at approximately 180 degrees centigrade) from the Fulton system is then used to heat the water source of the CSSD's clean steam generator, steam from which is then supplied to the sterilisers at a temperature that is sufficient enough to kill any remaining pathogens, microbes, and bacteria.
Fulton was also specified because a large residual store of energy was required and, in operation, its 60J vertical steam boilers feature a large reservoir of water at super heated temperatures. This means that if a demand for steam is required, the boiler can therefore 'flash off' a considerable amount of steam, something a steam generator is not capable of.
Furthermore, Hulley Kirkwood specified duel-fuel-fired (gas and oil) Fulton Swiss burners to ensure a constant supply of steam was always available should the hospital's gas supply be interrupted. Additionally, the specification of a twin boiler, skid-mounted system ensures 'N+1,' a redundancy method adopted by the consulting engineers to ensure an additional source of steam is available to support the CSSD's required performance; e.g., if one of the boilers needs to be taken offline for servicing or maintenance.
Summarising, Richard Boocock says: "Although temporary, the central sterile supply department is an essential change-over facility that is indispensible in the move from the original NHS Trust site to the new PFI-owned hospital. The Fulton system is at the heart of the CSSD and Fulton's on-going support and training is vital to its operators."
Fulton's renowned 'J' Series vertical gas- and oil-fired steam boiler range includes eight models with outputs from 96 to 960 kg/h. Its tubeless design, invented by Fulton, eliminates coils and tubes traditionally used in steam raising plant and enables the J Series to raise its full steam output in just 20 minutes. Its simple design and robust construction from quality materials makes them ideal for arduous applications in a wide range of industries.
Fulton also has an enviable reputation for manufacturing fully prefabricated, skid-mounted systems, and plant rooms offering high levels of efficiency and reliability. Systems are manufactured in Britain to BS2790 1992 Class 1 and are available for electric-, gas-, oil- and dual-fuel firing, with steam duties from 14 kg/h to 4787 kg/h F&A 100ºC. All systems are designed to be delivered to site and installed on a prepared concrete base and final installation is made easier by connecting to termination points, pre-installed by the customer, to ensure that the new boiler plant matches existing site services. Single or multiple skid-mounted systems based on Fulton's vertical boilers are available complete with all necessary ancillary plant for a range of applications
Further information on the products and services available from Fulton can be found at http://www.fulton.co.uk, by emailing uk.sales.office(at)fulton(dot)co(dot)uk or by calling +44 (0)117 972 3322.