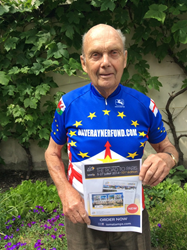 (PRWEB UK) 1 July 2014
Isle of Man Stamps & Coins, working in a partnership with 'Welcome to Yorkshire', is celebrating the British hosted launch of the 2014 Tour de France 'The Grand Depart Yorkshire' with the release of a one off series of collectables endorsed by Yorkshire man and cycling legend Brian Robinson. The Grand Depart will take place during the 'Yorkshire Festival of Cycling' which is being held from the 4th – 6th July where Isle of Man Stamps & Coins will be in attendance and for which a special postmark for the Harewood House Grand Depart has been produced.
As an Ambassador for the 2014 Grand Depart, which takes place for the first time from Yorkshire at Harewood House in Leeds this summer following the opening ceremony, Brian Robinson was the first Briton ever to finish at first attempt in 1955, and in 1958 became the first Briton ever to win a stage, winning another stage again in 1959. Brian provides an introductory narrative for the six special edition collectables which draws upon his own unique insight into the Tour de France and, in particular, the grueling conditions in which the racers will compete during the first stage over the Yorkshire dales from Leeds to Harrogate.
Each of the six special edition stamps use a high definition image of the iconic landmark associated with a stage, including the Leeds Arena where the opening ceremony takes place on the 3rd of July and the site of the Grand Depart outside of Harewood House in Leeds which takes place on 5th July. The sheets also feature images of York Minster Cathedral, the grand university buildings of the 'city of cycling' Cambridge, the tree lined, historic streets of Harrogate and Buckingham Palace 'Mall'. Harrogate in particular is a site of special interest to cycling fans and is the birthplace of the 'Manx Missile', Mark Cavendish's mum. Indeed, this may be the Manxman's best chance at winning the coveted yellow jersey, becoming in the process the first Briton to lead the Tour as a jersey winner within the UK.
Each of the officially branded, 2014 sheetlets is also accompanied by a course map, and features a different cycling hero associated with each stage, including Mark Cavendish in Harrogate, Brian Robinson in York, Bradley Wiggins in Cambridge and for the stages across to France, Eddy Merckx, Miguel Indurain, Jacques Anquetil, Eugéne Christophe ending with Bernard Hinault, five times Tour champion, at the Champs Elysées in Paris.
This iconic collection presents the rare opportunity to become part of the first Tour de France ever to depart from Yorkshire and is available in a variety of formats, including a Grand Depart postmarked cover for 5th July, a set of six mint or special postmarked sheetlets, a set of six mint or special postmarked postcards, a gift pack containing six mint sheetlets with a complete set of mint prepaid postcards and a mint sheetlet gift set all of which celebrating 'Le Grand Depart Yorkshire, The Road to Paris.'
Gary Verity, Chief Executive of Welcome to Yorkshire, said: "This is such a fantastic way to celebrate the Yorkshire Grand Depart of the greatest cycling race in the world. Not only does it celebrate the beauty of our landscape but also the iconic Yorkshire buildings, old and new which will play such an important part in the Tour de France 2014. We look forward to welcoming the world to Yorkshire on the 5th July."
Richard Allen, Cycling Journalist and Author, producer of the issue text said: "Every Grand Depart adds its own unique chapter to the history of the Tour de France. Very few locations get to host it more than once, stage routes vary each year, and the dramas that unfold on the road create moments never to be repeated. Yorkshire has a passion for cycling going back to the pioneering days of the sport so it is an ideal host for the start of the world's greatest race. The crowds we will see on July 5th and 6th are likely to be the biggest ever for a cycle race in Britain - exceeding even the massive crowds when the Tour has visited England on previous occasions. But this time we have a very real prospect of a British winner on stage one, which will also mean that they will become the first Briton to wear the yellow jersey of race leader in their home country. Whatever happens during the Tour's first visit to northern England, history will be made during two fantastic days of racing which will live long in the memory."
Brian Robinson, cycling legend said: "My international career started in 1950 when I went to the Isle of Man with a group of lads from my Club to take part in Cycle Week. To be part of a stamp issue which ties together the Grand Depart my home county Yorkshire and the Island after 64 years of enjoyment from the sport, is the real summit of my career. I am delighted that through the Grand Depart Collectibles, the Dave Rayner Fund will benefit financially, this is a charity which helps promising young cyclists to reach their potential and who knows one day may ride The Tour."
To order your piece of cycling history, visit http://www.iomstamps.com
NOTES TO EDITORS

Please visit our Media Centre where you can freely download copy, latest news, copyright free and approved images http://www.iompost.com/media-centre/login/
For daily updates follow us on Twitter @IOMstampscoins
Photographed in attachment is Brian Robinson cycling legend