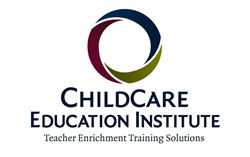 The new Activities Library is an exciting and effective resource to enhance the online learning experience for our students.
Duluth, GA (PRWEB) July 01, 2014
ChildCare Education Institute (CCEI), a nationally accredited distance training institution dedicated to the child care industry, is proud to introduce an exciting new feature to its Center-Based Professional Development Subscriptions.
Effective immediately, CCEI users enrolled in Center-Based Professional Development Subscriptions have access to a new Activities Library. The Library offers over 10,000 unique and interactive activities for children from birth through kindergarten. Through a partnership with iActive Learning, these activities provide CCEI students a terrific resource to supplement any early learning curriculum. The Activities Library is user friendly and can be searched easily by using a keyword or basic filter options. Filter options include age group, content area, interaction, topic, or development area, allowing for quick and easy access to activities that meet a wide variety of needs. Once an activity is selected, the instructions can be printed in PDF format and immediately used in the classroom.
"The new Activities Library is an exciting and effective resource to enhance the online learning experience for our students," said Maria C. Taylor, President and CEO of CCEI. "This is another example of CCEI's commitment to our customers and passion for the early childcare industry."
"We are proud to partner with CCEI, the leading provider of distance learning coursework for the early care industry," said Blair Ingle, iActive CEO. "We are all about adding resources for educators and this partnership gives us the avenue to do so."
Center-Based Subscribers may utilize the Activities Library at no additional cost to their subscription. In addition to the new Activities Library, CCEI's Center-Based Subscriptions come equipped with administrative features, individual accounts, and access to 100+ online childcare training courses.
CCEI training coursework is self-paced, which allows students the ability to maintain a work-life balance by completing courses at a time that is most convenient for them. For more information on ChildCare Education Institute, visit http://www.cceionline.edu or call 1.800.499.9907, Monday - Friday, 8 am - 5 pm EST.
About CCEI
ChildCare Education Institute® provides high-quality, distance education certificates and child care training programs in an array of child care settings, including preschool centers, daycare, family child care, prekindergarten classrooms, nanny care, and more online training. Over 100 English and Spanish child care training courses are available online to meet licensing, recognition program, and Head Start training requirements. CCEI also has online certification programs that satisfy the coursework requirement for national credentials including the Online CDA, Director and Early Childhood Credentials. CCEI is nationally accredited by the Accrediting Commission of the Distance Education and Training Council (DETC), has been accredited as an Authorized Provider by the International Association for Continuing Education and Training (IACET), and is authorized under the Nonpublic Postsecondary Educational Institutions Act of 1990, license number 837.
About iActive Learning
iActive Learning, LLC is a leading source for the newest developments in the early childhood learning environment. Under the guidance of top educational experts, iActive Learning provides superior educational products on a variety of digital platforms.