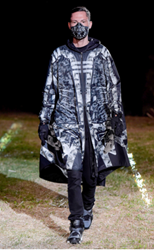 We have been working hard developing new colours and fashion styles for our pollution masks; Skins™ is the result.
London, United Kingdom (PRWEB) July 03, 2014
Respro® Skins™, including designs by Marcelo Burlon, County of Milan, introduce the idea that pollution masks are part of an individual's style and fashion. The colours and patterns are designed to blend with individuals' own style, adding another feature to their identity and at the same time ensuring they are well covered when it comes to the negative effects on health from poor air quality.
Choose a shell from the Respro® Skins™ range to #matchyourstyle.
About Respro®
Established in 1993, Respro® (UK) Ltd is a leading player in developing solutions to problems found in the urban sports environment. Most well known for the range of Hump® back pack covers seen all over the UK and Pollution masks used world wide. A British Company, Respro® produces uniquely exportable products and a brand range that works both at a local and a global level. From its UK manufacturing, it currently supplies products to over 26 countries.
About Marcelo Burlon
Based in Milan, with a background in fashion PR, and as DJ, filmmaker, and creative director, the eclectic Marcelo Burlon founded County of Milan in 2012, when he launched his first collection of t-shirts. His creative manifesto is an iconographic melting pot of various cultures: from his Argentine origins to club culture, run through by a subtle guiding thread of modern plucked from the fabric of the modern cosmopolitan lifestyle. His t-shirts look like a kaleidoscope of graphic motifs and color, characterized by the iconic "snake" symbol which is now being used on Respro® masks.
For digital information please contact: Media(at)respro(dot)com