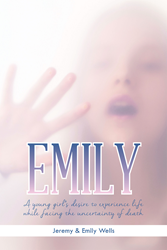 Everyone is entitled to love and be loved, even a twelve year old cancer patient.
Marlton, NJ (PRWEB) July 14, 2014
Society dictates what is and is not acceptable for love, but do terms change when relationships begin under the pressures of a life-threatening illness?
In Jeremy and Emily Well's new novel "Emily", a twelve-year-old girl, Emily, is diagnosed with childhood leukemia. Without a bone marrow donor, her chance of surviving her cancer is unlikely.
She has all but accepted her own death, when she meets 17-year-old Jeremy and the two develop a loving and supportive friendship. This friendship returns Emily's hope that she might live and be cured. However, when her mother learns about their relationship, she quickly tears the pair apart, removing Emily's desire to recover if she is forced to do so without Jeremy by her side.
Emily and Jeremy eventually discover a way to be together despite societies' rules that could have deprived her of an opportunity to experience a life with her soul mate.
"Everyone is entitled to love and be loved, even a twelve year old cancer patient," Wells said. "I hope that 'Emily' helps readers to re-evaluate their own biases about love, ethics and societal values.
"Emily"
By Jeremy and Emily Wells
Price: $21.99
ISBN: 978-1-4907-3463-7
Available at: Amazon, Trafford and Barnes and Noble online bookstores
About the Author
The author is a successful attorney who decided to write the book under the names of the book's two main characters. He believes the book will appeal to open minded individuals that recognize that unique situations can sometimes transcend society's rules of conduct.