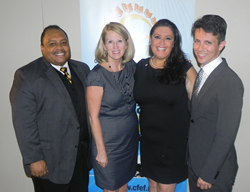 Florida's K-12 local education foundations epitomize true private/public partnerships and these two partners deserve to be recognized for their commitment to our students, teachers and schools.
(PRWEB) July 02, 2014
As the conduit for private-sector investment and involvement in public schools, Florida's local education foundations epitomize private/public sector partnerships school districts throughout the state. With 1,100 business and community leaders now raising more than $45 million annually for targeted student, teacher and school initiatives, countless partners are contributing to the success of 59 district-wide local education foundations throughout the state each year.
Two of those partners were named 2013-14 Outstanding Partners by the Consortium of Florida Education Foundations (CFEF) June 24 for their tremendous contributions and support of Florida's local education foundations' growth, development and effectiveness.
In the private-sector category, CenturyLink was singled out for their long-term involvement with education foundations within their 30 county Florida service territory and their recent commitment to helping teachers use develop new technology-driven classroom instruction strategies.
"CenturyLink knows that today's students learn differently and our teachers are working hard to adopt new digital learning strategies to engage them more effectively," said CFEF President Mary Chance. "They stepped up with a new 'Teachers & Technology' initiative this year that is resulting in 24 projects chosen through a competitive grant process. Everything from creating a 'Completely Interactive Math Classroom' in Hendry county to teacher externships for hands-on experience in applied technology in Collier county." Summaries of all projects funded through the CenturyLink Clark M. Williams Foundation can be accessed here.
This year's public-sector honoree Florida Commissioner of Education Pam Stewart was surprised with the recognition, having come to the event to thank local education foundation leaders for their work to advance student achievement throughout the state.
"As a teacher and principal in Marion county and as a school district leader in St. Johns, she has consistently been completely on board with our local education foundations and a tremendous champion of our work," said CFEF Membership Chair and St. Johns County Education Foundation Executive Director Donna Lueders. "She remains engaged with us in her state leadership capacity, frequently traveling around the state to be part of our local teacher recognition events and community forums. She also made the School District Education Foundation Matching Grant Program a priority in her budget, providing a dollar-for-dollar match for eligible local initiatives to increase student achievement."
To learn more about the CFEF or connect with any member local education foundation, visit http://www.cfef.net.