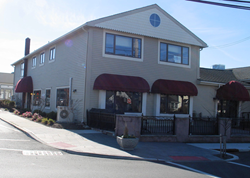 Monmouth Beach, NJ (PRWEB) July 01, 2014
After 17 years in business and three Jersey Shore locations, it is usually a no-brainer for local residents in choosing Michael Angelo's as their favorite pizza shop. Frequent guests will now see a new face in the Monmouth Beach, New Jersey location as longtime business owner and chef, Massimo DiMeo took over the popular restaurant.
Since arriving in the United States in 1978 from Monte di Procida, Italy, DiMeo has always had a passion for the food industry. He got a feel for the business working in his uncle's restaurant when he was young, later opening several eateries in the Jersey Shore area. He currently owns a well-known restaurant Antonio's Trattoria in Wall Township, New Jersey, which his son manages. DiMeo's wife helps oversee the business at Michael Angelo's as well.
With some new additions to the menu and friendly service, DiMeo promises a better dining experience. "It's not the food that is the problem," said DiMeo. "Ninety-nine percent of our complaints are from the service." Former owner of the restaurant location is Angelo DiCapua who still runs the other locations including Long Branch, New Jersey and Sea Girt, New Jersey. He also is co-owner of MJ's Restaurant in Matawan, New Jersey. "Angelo had a lot of places to take care of," said DiMeo. "I'm here every day so I try to do my best on the service. That's how you run a business: good food, good service."
Regulars of the pizzeria do not have to worry about their favorite food place changing too drastically, for DiMeo plans on keeping much of the menu the same with some gradual additions. "I'm concentrating on giving good service and learning the system and then I'll consider the necessary changes," said DiMeo. "I will change a little bit at a time. I'm not going to change the whole menu at once." The restaurant still remains bring your own alcohol with the convenience of the liquor store right next door, but other adjustments will be made. "It's not going to happen overnight," said DiMeo. "But in 2-3 months it will be much different."
DiMeo is confident in making a positive fresh start in the business, not letting past reviews interfere with the shop's progress. "Each owner makes their own reputation," said DiMeo. "I've been in the food business for almost forty years. I believe experience makes a difference. I invested money to make money, not to lose it so I am confident in doing just that."
Michael Angelo's is open from 11:00 am – 10:00 pm on weekdays and close at 11:00 pm on weekends and has both indoor and outdoor seating. Take-out, delivery and catering are also available. For more information or to place an order, call 732.229.2500.