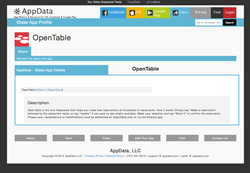 Google Glass is the next generation platform, and we're positioning investors and developers to make the most of it.
Raleigh, NC (PRWEB) July 02, 2014
Right on the heels of Google's announcement last week unveiling its Google Glassware app store, AppData, the leader in application analytics, has announced that its service now indexes Glassware app data in addition to the Facebook, iOS and Google Play support it already provides. This allows users to access app analytics from one source and stay on top of the mobile and wearable technology app revolution.
Google Glass is leading the revolution in wearable technology, and AppData is putting its customers in the best position to invest in mobile apps that enhance the wearable tech experience. Apps such as Shazam and Duolingo are already headed to Glass, and tracking these apps is critical for investors. The Glass store is the first major store for wearable tech apps, and AppData is poised to offer best-in-class app indexing and analytics.
"Google Glass is the next generation platform, and we're positioning investors and developers to make the most of it," said J. Scott Johnson, Founder and Chief Technology Officer of AppData. "We've baked in Glass app support, making it literally a point-and-click interface for users to learn more about app performance and giving our users another important vector to track mobile application success."
The easy-to-use app analysis means that developers and investors can quickly and effortlessly view how apps are performing in the marketplace. This allows customers, which also include publishers and industry analysts, to see where apps stand in the competitive mobile and social marketplace. Developers are better able to focus their efforts on apps that will offer ROI, and investors can spot the next Candy Crush or Seamless based on carefully aggregated data. Data is updated constantly throughout the day, and Enterprise and Pro users can access data that reaches back to October 2008.
AppData currently offers complimentary access to 30 days' worth of app rankings on its website. Rankings are divided by platform, and in the case of iOS, by iPad and iPhone as well. Subscription plans provide the opportunity to drill deeper into metrics such as revenue for all app platforms supported and download estimates for iOS apps.
To learn more about AppData's new Google Glass app analytics support, visit http://www.appdata.com.