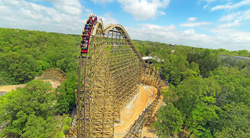 Branson, Missouri (PRWEB) July 02, 2014
Silver Dollar City's groundbreaking wood coaster Outlaw Run gathered more international accolades when it was named the winner of the Travel Channel's 2014 competition Insane Coaster Wars: World Domination in Episode 2. The program featuring Outlaw Run just aired Sunday, June 29, on the Travel Channel, including footage shot at the Branson, Missouri theme park.
In the episode, Outlaw Run ranked at the top with a score of 883, overtaking Taiwan's Insane Speed coaster, Guatemala's Avalancha, and Phantom's Revenge at Kennywood in Pennsylvania. Scores were determined by rider "thrill factor" votes during the Travel Channel filming at the parks. This is the third season for the Travel Channel's Insane Coaster Wars show, spotlighting 28 record-setting rides in seven episodes.
The $10 million Outlaw Run debuted in 2013 as the world's first wood coaster with three inversions, including a double barrel roll, and the world's steepest drop on a wood coaster at 81 degrees. It was named Best New Ride of 2013 worldwide in an industry poll conducted by Amusement Today magazine, and was recently named one of the 12 biggest game-changers in the history of theme park attractions by CNN.com.
Outlaw Run is one of more than 30 rides and attractions at the 1880s-themed Silver Dollar City, presenting seven world-class festivals and events March through December. For more information: 800-831-4FUN or http://www.silverdollarcity.com.