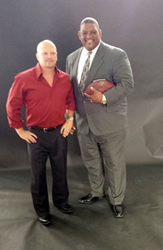 Dallas, TX (PRWEB) July 02, 2014
David Gergen, President of Pro Player Health Alliance (PPHA) and Gergen's Orthodontic Lab, has teamed up with Henry Schein to support the dental sleep medicine industry by attending a series of continuing educational seminars hosted and delivered by the Henry Schein Sleep Compete team. Due to the ongoing affiliation of Mr Gergen and the PPHA the likes of former Dallas Cowboys and Super Bowl Champions Derek Kennard and Preston Pearson will join as honored guests August 1 at a cocktail reception open to all registered attendees in addition to Brady James and surprise guests who will not be revealed until the day of the event.
The official invitation from the Sleep Complete team to doctors and their staff regarding the event reads as follows:
As a proud sponsor of this Sleep Complete Seminar in Dallas, TX August 1-2, please join Gergens Orthodontic Lab, Dr. John Tucker and the Sleep Complete Team for a comprehensive 2-day implementation program for Dentists and their Team with instruction and solutions to "Saving Lives and Growing Your Practice Through Dental Sleep Medicine". To Register with special offer Ph: 631 390 8143 – http://hnrysc.hn/SC8114 Hope to see you there!
This program is designed for Dentists and their teams who if they are serious about implementing this valuable treatment for their patients, plus want to learn how to be reimbursed for their efforts, then this program is a must! A dental team is important to the success of the dental sleep medicine program. At a minimum, it is recommended that a Front Office and Clinical team member attend with a doctor.
After completing the program, dentists will be able to:

Build and maintain a solid dental sleep medicine practice
Understand how to select an oral appliance
Communicate with Physicians and develop referrals
Bill Medical Insurance and Get Paid
Educational Content:

Screening for Obstructive Sleep Apnea in the Dental Practice
Patient Evaluation with Home Sleep Testing and Polysomnogram
How Does Oral Appliance Therapy Help Treat Obstructive Sleep Apnea?
Oral Appliance Designs and Fabrication
Implementation of Systems, Office Flow and Integration Into Your Practice
Documentation & Medical Billing Services
Marketing Your Dental Sleep Medicine Practice
Communicating with Physicians and Sleep Laboratories
Hotel Accommodations At:
Hyatt Regency Richardson
701 E Campbell Road, Richardson, TX
Ph 972 619 1234
David Gergen has been quoted saying, "Dr. Tucker and the Sleep Complete Team were a no-brainer to team up with. They are an unbeatable team who know how to put together a quality sleep program and Gergen's Orthodontic Lab is proud to be affiliated with them."
More information about these courses and 2014 schedule can be found at http://sleepcomplete.com/education-programs/.
RSVP at http://hnrysc.hn/SC8114
Date/Time:
August 1 8:00AM - 5:00PM
Location:
Planmeca E4D University
630 International Parkway
Richardson, TX 75081
About Pro Player Health Alliance:
The Pro-Players Health Alliance (PPHA) is an organization dedicated to helping former NFL players, through providing testing and treatment options for those who suffer from sleep apnea. In addition, the PPHA is dedicated to integrating education and raising sleep apnea awareness, in a fun and memorable way. In addition to the campaign, the PPHA is dedicated to testing and getting people treated who suffer from sleep apnea. This has been stepped up by working thought The Living Heart Foundation and it's HOPE program sponsored by the NFLPA. The PPHA was created David Gergen, President of Gergens Orthodontic Laboratories and Former NFL legends.
About David Gergen:
David Gergen, CDT, rolled out of bed on December 4, 1982 and had his career "ah ha" moment. He knew he was going to be an orthodontic technician and he knew he was going to help people all over the country to help treat their sleep disorders in partnership with their dentists. David Gergen opened his family-owned orthodontic lab in Phoenix, AZ in 1986 and now employees over 80 people.
David Gergen has been a nationally respected dental lab technician for over 25 years. He received the award for "The Finest Orthodontic Technician in the Country" given by Columbus Dental in 1986. He also received a lifetime achievement award by the Gelb Academy as America's greatest Orthodontic technician of all time, in 2012. He has worked for some of the pioneers in the orthodontic and sleep dentistry fields. Gergen and his father John Gergen began Gergen Orthodontic labs in 1984 and has grown it into one of the most respected labs in the country. One of his proudest achievements is receiving The National Leadership award for Arizona Small Businessman of the Year in 2004. David is the Dental Director of the American Sleep and Breathing Academy and he has also taken a spot at Tufts University teaching seminars for the Continuing-Ed program on Dental sleep medicine.