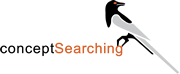 Denver, Colorado (PRWEB) July 03, 2014
Concept Searching is a Platinum Sponsor of SharePoint Fest Denver, and joins other sponsors in bringing this conference to the Colorado Convention Center on September 22-24, 2014. Conference delegates will hear from keynote speakers and attend breakout sessions. Over 70 sessions will be offered across multiple tracks, as well as an optional day of workshops preceding the conference. There will also be a networking reception held at the end of the first day of the conference.
About Concept Searching
Concept Searching is the industry leader specializing in conceptual metadata generation, auto-classification, and taxonomy management. The award winning technologies integrated with Concept Searching's Smart Content Framework™ encompass the entire portfolio of unstructured information assets in on-premise, cloud, or hybrid environments.
Concept Searching has a Microsoft Gold Application Development competency, and is a member of the elite Business Critical SharePoint Program. conceptClassifier for SharePoint is the only enterprise class solution that delivers intelligent metadata enabled solutions through automatic semantic metadata generation, auto-classification, and innovative taxonomy tools running natively in the SharePoint environment, including 2007-2013. conceptClassifier for Office 365 is currently the only product on the market that fully complements Office 365 and adds significant value in the management of unstructured and semi-structured data. Both products address migration, records management, data privacy, search, social tagging,
Web Site: http://www.conceptsearching.com
About SharePoint Fest:
SharePoint Fest is in its fourth year. It offers a two-day conference (with an optional workshop day) that brings together SharePoint enthusiasts and practitioners, with many of the leading SharePoint experts and solution providers in the country.
Attend SharePoint Fest - Denver where you'll be able to attend workshops and seminars – taught by Microsoft Certified Trainers, Microsoft engineers, and Microsoft MCM's & MVPs – covering Enterprise Content Management, Implementation/Administration, Business Value, Search, Business Intelligence, Office 365 & SharePoint Development. Choose one complete learning track or mix & match based on what content best meets you and your organization's current needs!
At SharePoint Fest - Denver, there will be sessions created for SharePoint administrators, software developers, business analysts, information architects, and knowledge workers which will ensure that you and your team walk away with as much knowledge as you desire to truly leverage SharePoint in your current environment!
Web Site: http://www.sharepointfest.com/Denver