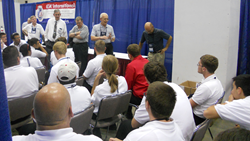 Congratulations to the tough competitors who vied for medals and awards in the Telecommunications Cabling contest and especially to the six contestants who took home gold, silver and bronze medals for themselves and their schools!
Greencastle, IN (PRWEB) July 08, 2014
The SkillsUSA Championships is considered the largest single day of corporate volunteerism in America and valued at $36 million in industry support of donated time, equipment, cast and material. ETA International marked its tenth year as an official sponsor of SkillsUSA, and thirteenth year as the National Telecommunications Cabling championships sponsor.
Students worked against the clock and each other, proving their expertise in occupations like electronics, computer-aided drafting, precision machining, medical assisting and culinary arts for a wide range of prizes and to medal as a gold, silver or bronze winner. About 6,000 high school and post-secondary students, all local and state contest winners, competed in 99 different hands-on trade, technical and leadership contests at the Olympic-type event. Contests are run with the help of industry, trade associations, and labor organizations, and test competencies are set by industry.
Unique to SkillsUSA, the Telecommunications Cabling Contest utilizes ETA's Data Cabling Installer (DCIC) and Customer Service Specialist (CSS) certifications. The contests are planned by the Skills Technical Committee and designed to test the aptitude needed for successful entry-level performance in the field.
The T-com cabling contestants arrived early in the morning ready for a long day of competition. Divided into groups, they entered their first test area after clothing inspections and tool kits checks. They were assessed on their hands-on skills in the areas of 25 pair cable installation, cable termination, copper and fiber cable construction as well as copper and fiber troubleshooting, and technical assistance. Each area rotation was 90 minutes long.
Congratulations to the tough competitors who vied for medals and awards in the Telecommunications Cabling contest and especially to the six contestants who took home gold, silver and bronze medals for themselves and their schools!
High School
Gold Medal: William Clontz, Weaver Academy, Greensboro, NC
Silver Medal: Amon Henady, Franklin Technology Center, Joplin, MO
Bronze Medal: John Cuneo, Middleburg High School, Middleburg, FL
Post-Secondary
Gold Medal: Manuel Strassner, Tennessee College of Applied Technology, Sevierville, TN
Silver Medal: Erskin Tillery, Guilford Tech Community College, Greensboro, NC
Bronze Medal: Eric Parrish, Indian Capital Tech Center, Tahlequah, OK
The National Education Team and the Technical Team from industry developed contest content, built and set up the rotation areas as well as conducted both the orientation and competition. Including the T-comm judges, these contributors to the event came from departments of public instruction, community colleges, proprietary training groups, and companies such as ETA International, Panduit, Fluke, Cisco and Bicsi.
Members of the national technical committee for telecommunications cabling include
Technical Chair: Teresa Maher, CSS - ETA (IN)
Co-Chair: Rich Booth, FOI - ETA (AZ) (GA)
Kevin Celata - Communications Workers of America (D.C.)
Mike Gleason - Panduit Corp. (IL)
Matt Humphries - Fluke Networks (WA)
Bob Schoenherr - Cisco Systems, Inc. (CA)
Education Chair: Bob Dickerson, DPI, retired
Dan Parmer - Stanly Community College (NC)
Dick Darnell - Tyco Electronics (UT)
Additional judges include William Brinker, CETma - Commenco (MO); Ken Boyd - Panduit (MO) and Tom Wheeler - Kansas City Metro Community College (MO).
Awards for the 2014 T-com contest include Samsung tablets by ETA International; telecom tools, equipment and labelers by Panduit; Milwaukee tools; scholarships from Ranken Technical College and eitPrep; Bicsi training guides; Fluke ProTool sets; telecom tools labelers by Dymo; DVD fiber optic training by The Light Brigade, Telecom Tests, and Cengage Learning; Cisco Press study material; and other items from CWA, Massachusetts Institute of Technology, Timberland foot ware and Snap-on Tools.
About ETA
Since 1978, ETA has issued over 150,000 professional certifications. ETA certifications are widely recognized and frequently used in worker job selection, hiring processes, pay increases, advancements, and often required as companies bid on contracts. ETA's certifications are personal and travel with the individual, regardless of employment or status change and measure competencies of persons, not products or vendors. ETA certifications are accredited through the International Certification Accreditation Council (ICAC) and align with the ISO-17024 standard. http://www.eta-i.org
Download this press release at – http://www.eta-i.org/pr/Champions_Compete_at_SkillsUSA.pdf.