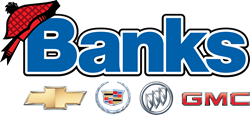 "Being named Dealer of the Year by Chevrolet and GMC is only encouraging us to work harder at keeping that high standard of customer service." - Brad Solomon, Customer Care Manager at Banks
Concord, NH (PRWEB) July 08, 2014
Banks Chevrolet-Cadillac-Buick-GMC in Concord, NH has been named Dealer of the Year by both GMC and Chevrolet. This is a unique distinction and Banks is the only dealer in the nation to receive both awards.
Each year General Motors honors the "best-of-the-best" Chevrolet, Buick, GMC and Cadillac dealers across the country. This award is an honor reserved for the top 2% of Chevrolet, Cadillac, Buick, and GMC Dealers by region. However, of the few dealers honored this year, Banks Chevrolet-Cadillac-Buick-GMC is the only dealership in the country to have been honored with Dealer of the Year by both Chevrolet and GMC. Banks was rewarded with plaques to display in the showroom and an invitation to the Global Headquarters in Detroit, Michigan for recognition.
The Dealer of the Year award is given to the dealerships who excel in customer satisfaction, overall sales and service volume, and a dealership's respective impact on its district and zone resulting from its performance in these areas. Banks is New England's highest volume GM dealer and consistently out performs its competitors in customer satisfaction in both sales and service.
"The Banks team is always striving to provide the best sales and service experience, and that's why our family of customers return to Banks," said Brad Solomon, Customer Care Manager at Banks. "Being named Dealer of the Year by Chevrolet and GMC is only encouraging us to work harder at keeping that high standard of customer service."
With upgraded facilities, an expanded service center, and over 1400 vehicles in stock, it's clear that Banks is focused on providing the finest customer service experience. Banks has shown commitment to satisfying customers by participating in Standards For Excellence and maintaining compliance with the Essential Brand Elements program.
About Banks Chevrolet-Cadillac-Buick-GMC
Since 1957, Banks has been a family owned and operated business in Concord, NH. With over 200 employees, Banks has grown to be one of the largest dealerships in New England selling and servicing Chevrolet, Cadillac, Buick and GMC brands. Banks has created a workplace that is enjoyable and productive for employees as well as for their customers, who keep coming back, generation after generation. Banks Chevrolet-Cadillac-Buick-GMC is located at 137 Manchester Street in Concord, NH. For more information visit http://www.banksautos.com.