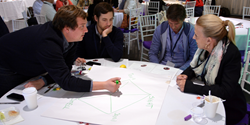 More and more major brands are exploring highly effective scent and sensory marketing strategies in order to increase sales, strengthen brand equity, and enhance their customers' shopping experience.
New York, NY (PRWEB) July 08, 2014
ScentWorld 2014, the world's premier scent and sensory marketing event, took place on June 12-13, 2014 in New York City and was wildly successful. The event attracted over 50 executives from major brands and retailers, including Disney, Hilton, Victoria's Secret, Guthy-Renker, GlaxoSmithKline, Yankee Candle, Lilly Pulitzer, Belk, Clarins, Samsung, Philosophy, Time Warner and others. Over 200 people flocked to ScentWorld from North America, Latin America, Asia, Europe, Asia, Africa, and the Middle East.
The two-day event featured presentations and workshops from brand executives and sensory marketing experts, as well as a dynamic exhibit area packed with leading scent and sensory marketing providers from all over the world. AirQ and solution were diamond event sponsors, Aromasys and The Mood Factory were silver sponsors, Demeter Fragrance was a bronze level sponsor, and Firmenich was the registration table sponsor. ScentWorld 2014 exhibiting companies included Adhespack from Brazil, Air Esscentials, Aromarketing Marketing Olfativo from Spain, Draco Hygienic Products, HCD Research, Innollogi from Israel, Orlandi, Prodia from Columbia, Scentevents, Sixth Sense Paper Products, and U & I Worldwide.
Attendees rated the event as being "excellent," and particularly benefited from the education, networking, innovative ideas, the comprehensive introduction to scent and sensory marketing, learning about new technology, and generating sales leads. Topics of the presentations included how a prominent international hotel chain uses scent for branding and other purposes and issues impacting scent's use in hospitality, a panel discussion on creating a multi-sensory customer experience, a presentation on creating buildings that enhance one or more of the senses and how that impacts people who live and work there, an interactive sensory branding workshop where two leading brands were analyzed on their effectiveness across the five senses, and many more fascinating subjects.
A big part of ScentWorld 2014 was the presentation of the SMItty Awards for excellence in scent and sensory marketing. The recipients of the prestigious 2014 SMItty Awards were as follows:

Harald Vogt Scent Marketer of the Year – SensoryMax for its high profile and highly successful multi-sensory rebranding for Lincoln Motor Company.
Most Innovative Use of Scent Marketing – DXL men's clothing store chain for its complete rebranding, store redesign, and signature scent.
Scent Technology Innovation Award – iScent by Air Esscentials in association with Nel-Tech, a point of sale display or on-shelf scenting device that can tie into audio visual outputs
The Best Sensory Guest Experience – Hilton Worldwide for its brand specific ambient scenting
Groundbreakers Award – Samsung's retail stores for its adoption of scent marketing and branding
About ScentWorld, LLC:
ScentWorld is the preeminent global scent and sensory marketing conference. It features two days brimming with networking and cutting edge presentations and workshops, helping professionals to creatively build their businesses with profitable ideas. Attendees hear from leading minds in scent and sensory market research, technology and trends, and applications, with inspiration from dynamic exhibitions featuring the top global companies. For more information on ScentWorld, visit http://www.scentworldevents.com.